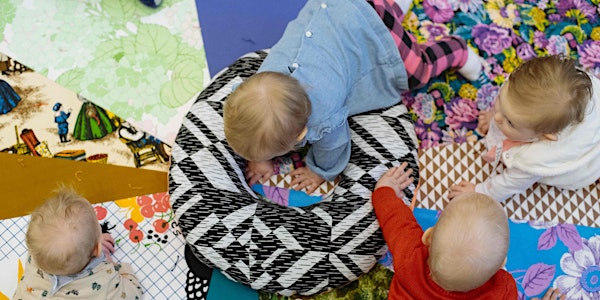 In-Person Event: Bring the Baby Art Tour & Tummy Time
Join Esker staff for this gentle 'baby-led' conversational tour of our current exhibitions.
When and where
Location
Esker Foundation 1011, 9th Ave SE Calgary, AB T2G 0H7 Canada
About this event
Introducing babies to works of art lays the groundwork for visual, cognitive and language development. Parents, caregivers and their babies are invited to join us for this gentle 'baby-led' conversational tour where we will explore some of the themes in our current exhibitions while considering our youngest participants' reactions to the artwork. Following a half an hour tour, babies will have a chance to enjoy some 'tummy time' social fun on artist Yvonne Mullock's extraordinary interactive sensory blanket, created especially for babies to explore and enjoy.
This program will happen in-person. Registration required. Recommended for little ones 2 and under.
Photo: Elyse Bouvier.
Prior to registering, please read Esker Foundation's Media Release Agreement: https://eskerfoundation.com/assets/MediaReleaseAgreementMay2019.pdf
Esker Foundation at times records programs and events for the purposes of archive and promotion. By participating in a program or event at Esker Foundation you consent to having Recordings (images, photographs, videos, audio recordings or other media) taken of you/your dependent(s). Participants will be notified when Recordings will be taken. Esker Foundation will not use these Recordings for commercial purposes.
Esker Foundation respects Participants' privacy. Should you wish to not have Recordings of you/your dependent(s) taken, you may opt out on the day of the event or program by notifying a member of Esker Foundation's staff or volunteer.
Respect and Inclusion
By registering for this Program you agree to co-create, in collaboration with Esker Staff, Artists and Volunteers, an atmosphere of mutual inclusion and respect for all persons. This includes speaking, acting and behaving in a way that is absent of violence, harassment, racism, intimidation, bullying or discrimination of any kind regardless of, and not limited to gender, sexual orientation, race, ethnicity, culture, age and ability. This includes in online/digital forums.
Should you require any support, or have any questions, please reach out to: programs@eskerfoundation.com