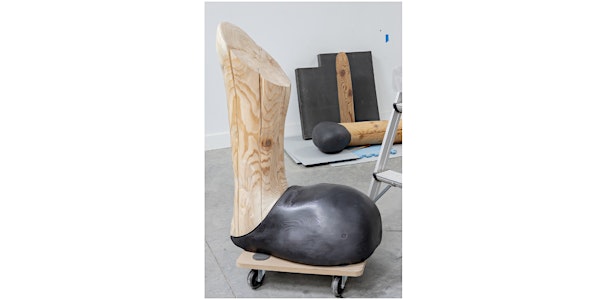 In-Person Exhibition Tour with Robin Arseneault & Naomi Potter
Join us for a tour led by Robin Arseneault and Curator Naomi Potter of Arseneault's current exhibition, Falling Off The Log.
When and where
Location
Esker Foundation 1011, 9th Ave SE Calgary, AB T2G 0H7 Canada
About this event
Artist Robin Arseneault and Curator Naomi Potter will give a tour of Arseneault's exhibition, Falling Off The Log.
Robin Arseneault's work is performative, provocative, and luxurious one minute, and silly, self-deprecating, and raw the next. Central to her exhibition are twelve large sculptures that started from a set of small palm-sized pieces of driftwood purchased from an online estate sale of a recently deceased artist from New York City. After receiving the box of driftwood, Arseneault immediately wanted to move them away from something precious to hold, to something more emblematic of, and relational to the entire body. Arseneault's work embraces failure—the shuffling, twisting, tripping-into-a-fall-as-one-exits-the-stage kind of failure that is equally pathetic as it is hilarious. Yet the work is also guarded, and carries an emotional depth that does not define nor reveal its source.
In-person Program. Registration recommended. Opens 6 July at 11am.
Image: Robin Arseneault. Dancing Men (Troupe), 2022. Studio detail. Courtesy the artist and Norberg Hall.
Prior to Registering for this program or event, please read Esker Foundation's Media Release Agreement: https://eskerfoundation.com/assets/MediaReleaseAgreementMay2019.pdf
Esker Foundation at times records programs and events for the purposes of archive and promotion. By participating in a program or event at Esker Foundation you consent to having Recordings (images, photographs, videos, audio recordings or other media) taken of you/your dependent(s). Participants will be notified when Recordings will be taken. Esker Foundation will not use these Recordings for commercial purposes. 
Esker Foundation respects Participants' privacy. Should you wish to not have Recordings of you/your dependent(s) taken, you may opt out on the day of the event or program by notifying a member of Esker Foundation's staff or volunteer.
If you have any questions or concerns, please contact: programs@eskerfoundation.com