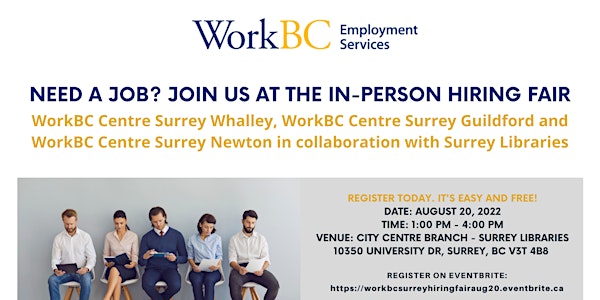 IN-PERSON HIRING FAIR BY WORKBC NORTH SURREY & NEWTON, Aug 20 at 1:00pm
IN-PERSON HIRING FAIR BY WORKBC NORTH SURREY & NEWTON, Aug 20 at 1:00pm
When and where
Location
Surrey City Centre Library 10350 University Drive Surrey, BC V3T 4C3 Canada
About this event
Here's a list of the employers participating on Aug. 20, and the position titles:
Popeyes Louisiana Kitchen
Food Service Supervisors
Kitchen Supervisors
Cashiers
Cooks, Kitchen Helpers
Assistant Managers
AP Canadian Immigration Services
Business Development Manager - 1
Marketing Associate - 1
Sun Rich
Production Worker - 9
Warehouse Worker - 5
Quality Assurance Technician - 1
Administrative Assistant - 1
Glen Recruiters and Glen Traffic
Traffic Control Persons (TCPs)
Lane Control Technicians (LCTs)
Material Handlers
Sales Manager
Admin Assistant
OFA2 Security Guards
Forklift Operators
Order Pickers, others
Securiguard Services Ltd.
Full-time & part-time Security Guards
Oil and Gas Security Officer (for GVA/Fraser Valley)
City of Vancouver Security Professional / Security Guard
Concierge Security
Remote Camp Security Guard
Mobile Security
Retail Security Guard (for BC Liquor)
First Student ULC
School Bus Drivers (Class 2 & Class 4) - 15
School Bus Attendants - 10
GEA Refrigeration Canada Inc.
Mechanical Engineer
Application Engineer
Electrical Engineer
Commissioning Engineer
Project Manager
Welders
Assemblers
Machine Operators
General Labor
Sheet Metal Workers
Machinists, etc.
Aerotek
Warehouse Associates
Forklift Operators
Shipper/Receivers
Mechanical & Electrical Assemblers
Production Associates
Machine Operators
Paradies Lagardere (hiring for YVR)
Warehouse Associates - 10
Sales Associates - 10