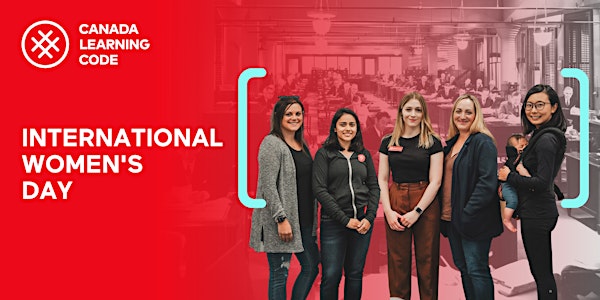 In-Person LLC: IWD: Webmaking w/ HTML & CSS (18+) - Regina (3hrs)
Workshops, courses and meetup experiences for adults of all ages and genders but designed to be a space for women.
By Canada Learning Code | Canada en programmation
When and where
Date and time
Sunday, March 12 · 12:30 - 3:30pm CST
Location
Innovation Place 6 Research Drive Regina, SK S4S7J7 Canada
Refund Policy
Contact the organizer to request a refund.
About this event
Why learn HTML & CSS?
If you are looking to get your feet wet when it comes to coding, then this is the workshop for you. HTML and CSS are the backbone of all websites, and knowledge of them is a necessity if you are interested in things like web development, creating marketing emails, or even blogging! The web without HTML and CSS would be a world without colourful, pretty websites, not to mention the web applications we all use daily. It's easy to learn, and was designed so that everyone - even non-programmers - can do it. No fancy programs are needed, just a web browser!
This workshop is designed to be a hands-on experience. During the session, you'll learn:
Basic techniques and concepts that are translatable to other programming languages
The building blocks of how HTML and CSS work together to create richer online experiences
How to create a website with images and a CSS-defined layout
What resources are available if you'd like to continue learning at home (and we think you will)
International Women's Day with Canada Learning Code
Be part of the strong networks and communities committed to building a future in tech where gender equity is embraced for all women.
We're calling on YOU, our Canada Learning Code community! This is an invitation for our learners, volunteers, mentors, instructors, chapter members, donors, supporters and those of you who are curious about getting involved with Canada's leading national charity championing computer science education.
Events are happening around the country, ranging from panel discussions featuring trailblazing women in tech, to networking opportunities, and hands-on coding workshops to help sharpen your skills.
More about International Women's Day with Canada Learning Code here!
Who is this for?
Our Ladies Learning Code workshops offer female-identified and male-identified, trans, and non-binary adults hands-on, project-based learning experiences that are designed to give beginners the skills and confidence they need to become digital creators.
Prerequisites:
None! This workshop is designed for beginners.
What's Included:
An awesome lead instructor and industry mentors!
Requirements: 
You must bring your own laptop for which you have administrative permissions.
Please remember to bring your own powercord. A mouse can come in handy too!
You may be required to download some free software. After you sign up we will email detailed instructions.
We strive to host inclusive, accessible experiences that enable all individuals to engage fully. To request an accommodation or for inquires about accessibility, please contact accessibility@canadalearningcode.ca
Hey you! Have you joined the Canada Learning Code mailing list? It's the best way to stay updated and get information about upcoming learning experiences. Subscribe here.
Questions? Email us at info@canadalearningcode.ca
You can also find us here:
Hope to see you soon!
If you're interested in supporting our mission click here to donate.
About the organizer
We design, deliver and partner on technology education for people in Canada and run programs for Ladies, Kids, Girls, Teens and Teachers.
Nous concevons et mettons en œuvre des programmes et réalisons des partenariats d'enseignement de la technologie pour les femmes, les enfants, les filles, les ados et les enseignants du Canada.