Join this amazing talent rich event to move your speaking business forward while connecting with the members of CAPSBC. Lunch included.
About this event
Move Your Speaking Business Forward
CAPSBC In-Person Open House
(Please note we are confirming the ticket price since this event will include a catered lunch - yummy! Since Tickets will be limited, please get the "Save the Date (Payment required later)" Ticket if you plan to attend and you will be given first access to tickets when they go on sale.)
Join this amazing event to move your speaking business forward while connecting with the members of CAPSBC. (Lunch is included.)
This fun and engaging event will focus on how you can move your speaking business forward and introduce you to CAPSBC and the CAPS Advantage.
CAPS is a professional association for people in the speaking business. Our members are versatile and diverse. They represent all aspects of the speaking business and make their living, speaking to and/or working with groups.
Who is this event good for?
keynoters,
facilitators,
coaches,
and trainers.
PLUS, anyone paid to speak in some form like authors who do talks, emcees, musicians who have talks and sing, consultants, panel moderators etc.
Agenda and the Talent Who Will Share:
Emcee: Tanya Steele
Keynote: Leading in Real Time: How to Be Ready, Responsive and Relevant in a Radically Changing World by Michelle Ray, CSP, Leadership Keynote Speaker, Author and Consultant
Once upon a time, business used to be more about the "long view". I.e., looking out on the horizon to determine our future direction. Recent events have shown us that work and life have become much more about the present moment. The pandemic and other disruptors have compelled business owners to take action in the now, or in real time as we often refer to it today, rather than expending energy worrying about a future that we cannot control.

During this highly engaging, dynamic and thought-provoking keynote based on Michelle's new book, Leading in Real Time, you will learn how to actively expand and shift your thinking around your business practices in order to be more be effective in real time.

Join us on October 23 to experience Michelle's three-step process to help you and your business remain ready, responsive and relevant in a radically changing world.

Keynote: How to Build Your Business with Value not Sales by Hugh Culver, CSP, CFP, Speaker, Author, Athlete and Founder of BlogWorks
There is a myth in business that sales are the holy grail of success. That is only partially true. While every business needs sales, the real value is in systems you perfected, a team you built, and your unique approach to solving your clients' problems.

Join author, speaker, and business leader, Hugh Culver for a special conversation about creating value. If you have an established business, this is an invitation to get you to the next level. If you are new to business, this session will be a guide to high-value business building.

Panel: Speaking Business Success, Moderated by David Gouthro. Panelists: Tom Watson, Dr.Bal Pawa, Andrea Menard, Stephen Hammond
Lunch at the Arbutus Club
More about CAPS:
CAPS is committed to building a better future for the professional speaking business in Canada. We help our members succeed in their speaking businesses through learning partnerships, market development, and professional accreditation. We also support international advancement of the speaking profession through our participation in and support for the Global Speakers Federation.
Whether you have already built a successful business or are beginning the journey to take your expertise and experience into the marketplace, you'll discover a network of successful members and professional development events locally, nationally and internationally.
The four cornerstones of the CAPS Advantage are Learn, Share, Grow, and Belong. Become part of The CAPS Advantage to Grow Your Speaking Business
We're looking forward to seeing you!
Covid Policy:
***Please note as this is a restaurant, we will be following all Covid regulations as they stand at the time of the event. Pre-confirmation of meeting the requirements may be necessary. Refunds will be given 1 week before to anyone who doesn't meet those requirements and therefore cannot attend.***
More about Our Keynote Speakers:
Hugh Culver
Hugh Culver, MBA, CSP co-created the world's most expensive tours (to the South Pole), has presented to over 1,200 audiences, built and exited 3 businesses, and is the author of Give Me a Break – the art of making time work for you. His blog at hughculver.com reaches 500,000 readers a year.
In the last 7 years he has worked with over 200 entrepreneurs - many are top speakers in the USA. Most are caught in an eat-what-you-kill mindset that's all about landing the next "gig". He has built and exited 3 businesses (the most recent was this year). And in all cases, he made more money getting out of his business than while he ran the company. In each case he learned the importance of thinking more like a CEO, than an entrepreneur. The "secret" to CEO-thinking and building a successful, sustainable business is to design it as if it will be sold - even if you never do.
Michelle Ray
How many people can identify with a predominantly negative leadership experience early in their careers? That was how Michelle Ray's foray into the world of work began when she excitedly accepted a position in the media advertising industry while still living in Sydney, Australia. Upon hearing the words "you will never make it as a manager", Michelle ignored her critical, misogynistic boss and worked her way up the leadership ladder, devoid of role models and mentors.
With a proven background in achieving outstanding results as a business leader, Michelle's early experiences inspired to help leaders engage more meaningfully with their teams and create dynamic workplace cultures. She established her speaking, leadership training and consulting business in 1995, shortly after emigrating to Vancouver, Canada. Michelle has since worked as an in-demand keynote speaker and respected thought leader for an array of renowned brands, government organizations and diverse industry associations around the world.
Michelle is the author of Lead Yourself First! Indispensable Lessons in Business and in Life. She is also a Certified Speaking Professional, the highest earned designation in the speaking industry's international measure of professional platform skills. Her latest book: Leading in Real Time: How to Drive Success in a Radically Changing World, just released worldwide.
You can learn more about Michelle on her website: www.michelleray.com.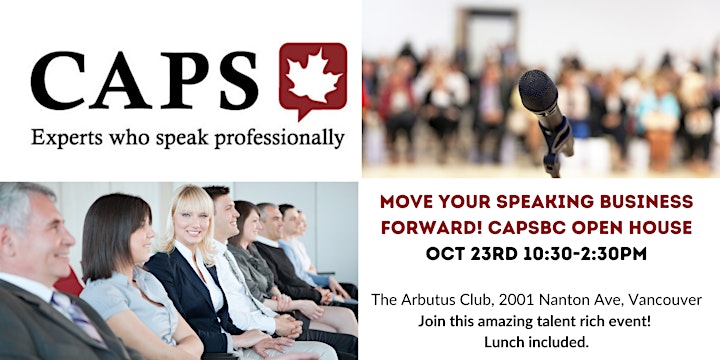 Organizer of (In-Person!) Move Your Speaking Business Forward: CAPSBC Open House
Canadian Association of Professional Speakers CAPS BC

CAPS BC is a community of Vancouver speakers comprised of keynoters, facilitators, coaches, trainers, motivational and public speakers living in British Columbia, Canada.
Associated with GSF the Global Speakers Federation and NSA the National Speakers Association in the USA, we are a member organization committed to providing resources, mentorship and business training to experts who choose the speaking profession as a way to share their area of expertise. 

CAPS BC serves and welcomes those who have been in the industry for years as well as those who are just launching their speaking business.
We meet throughout the year. Please check our website for the next event.