A lead-in Community Conversation to explore possibilities and shape the content for the Mixed Methods In the Mix June 2022 Workshop Series
About this event
What If the Ways We Guided and Verified Outcomes Were Life-Giving?
Mixing Quantitative and Qualitative Methods
WE ARE DELIGHTED TO ANNOUNCE a second offering of In the Mix, our workshop series on mixed methods of evaluation led by Professor Emeritus Andrew Thompson. 
How we monitor, adjust, adapt, and verify our progress in our work is woven into just about everything we do. Whether we are setting our eyes on a new point on the horizon and deciding where we are headed, seeking sustaining funds for our work, or verifying our results, evaluation walks with us every step of the way.
How we measure and evaluate is evolving in ways that can enliven our sense of progress, efficacy, and hope. By mixing quantitative and qualitative methods we can guide our work together and reflect results by what matters and is meaningful in people's real lives.
Mixed Methods holds the potential to humanize interactions between agencies and citizens. It can enable rich learning and empower those making change in the system.
Workshop Series — Save the Dates
You are invited to a four-part, Mixed Methods course:
Tuesday, June 14, 1:00 – 2:30 pm BST: What is Social Research/Inquiry?
Thursday, June 16, 1:00 – 2:30 pm BST: The What and Why of Mixed Methods
Tuesday, June 21, 1:00 – 2:30 pm BST: How is Mixed Methods Done?
Thursday, June 23, 1:00 – 2:30 pm BST: Design Café
Professor Emeritus Andrew Thompson Edinburgh University delivers the course.
This series is cumulative and will explore the Why, What, and How of Mixed Methods in the first three workshops. The series culminates in a fourth session — a Design Café.
The workshops are both instructional and participatory. We are aiming to cultivate a supportive community of practice, so relationship and reflection are baked in!
Design Café is a dynamic and fun way to spark new possibilities in your work with the support and encouragement of others.
If You Would Like to Experience:
A sense of purpose and belonging
Relationships, trust and mutual confidence working together and with Mixed Methods
Exciting opportunities to unpack and configure complexity
Working into a seamless coordinated service to support people to achieve their lives potential
Experiments with interdependent efforts and projects
Link ups that feel natural
Relaxing feeling of, "Oh I get this" and "This is cool!"
Knowing where you fit in all this
Community feedback that is helpful and constructive
Then this Workshop Series might be for you!
Learn More and Help Shape Workshop Content
We are hosting free, pre-workshop Community Conversations to share our plans for the workshop series and community of practice, to hear your reflections, and shape next steps together. To register for these free information sessions follow this link:
What we learn and become curious about together during these Community Conversations will shape the content of the workshop series AND lay the groundwork for a growing community of practice, support, and encouragement.
We'd love it if you would join us for this highly participatory and generative gathering on Thursday, June 9, 1:00 – 2:30 pm BST.
You MUST REGISTER to receive the link for these calls.
If You Choose to Join Us Please:
Arrive several minutes early and ensure your mic and camera are connected and working properly prior to the start time.
Be open to being present to others
Come prepared to share your stories and gifts
Join the Mailing List
Follow this link and join our mailing list to receive registration information, updates, and invitations.
Workshop Series Registration Fees
£500.00 Full Fee
£300.00 Public Sector
£250.00 Charity/Third Sector
£150.00 Sole Trader & Self-Funded Individual
Fee Waivers are available for home-fee students: UK citizens or UK residents of more than three years.
In the Mix Podcast
If you would like to learn more about Mixed Methods check out the In the Mix podcast. You can listen to them by following these links:
Graphic Reflections
FOR FUN we've included below, the graphic reflections in our collection from last summer's workshops by Yvonne Hollandy.
This series is facilitated by Axiom News. If you have any questions, write to events@axiomnews.com.
Funding for the series is provided by the Scottish Funding Council's workforce development fund.
These gatherings are brought to you by:

Graphic reflections from the first In the Mix workshop June 15, 2021.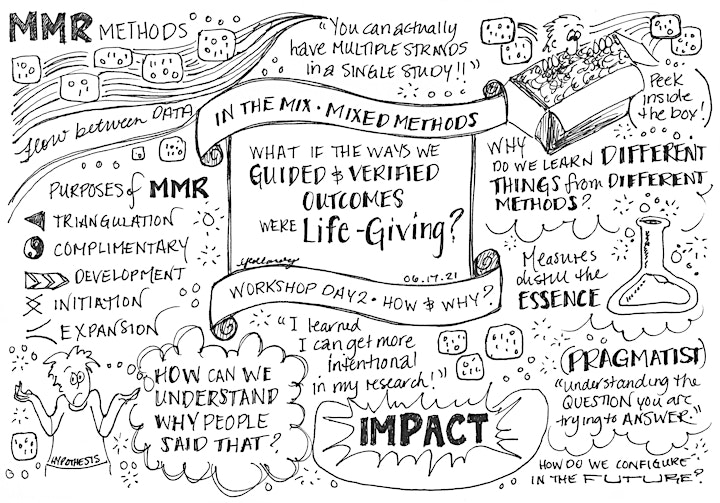 Graphic reflections from the second In the Mix workshop June 17, 2021.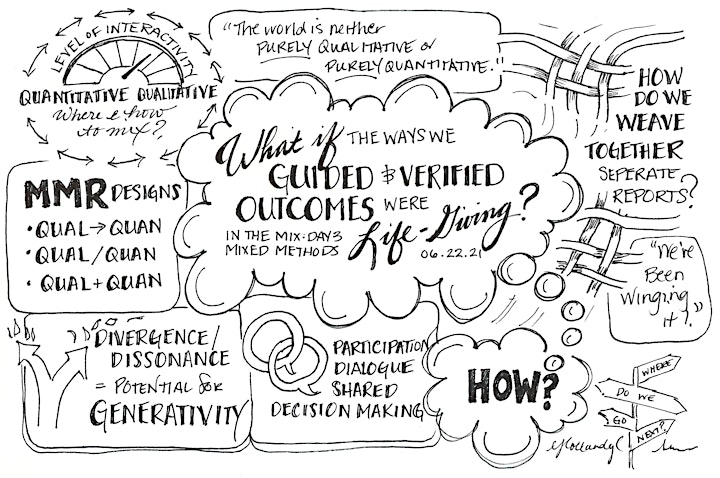 Graphic reflections from the third In the Mix workshop June 22, 2021.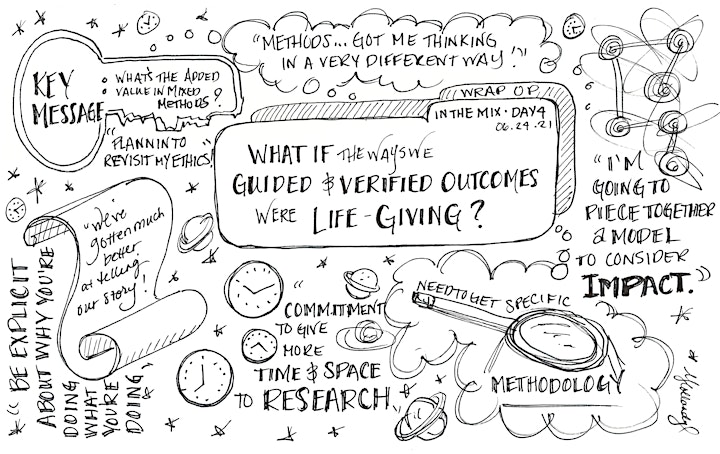 Graphic reflections from the fourth In the Mix workshop June 24, 2021.