A day for cultural workers to learn to place reconciliation and redress in their practice.
About this Event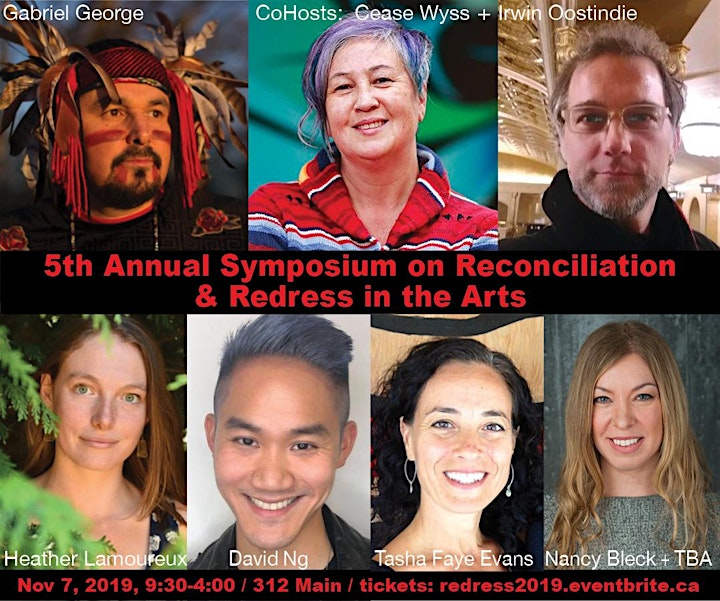 Pam Palmater describes reconciliation as "fluff," so how can redress bring change to the economic dominance of settler culture in Vancouver? Hear from Coast Salish and settler artists and policy workers about their experience navigating this time and space. See how "good intentions" and "performing reconciliation" miss solutions needed to get out of the way of Coast Salish cultural sovereignty. Let's talk about commitments settlers and migrants can make personally, organizationally, and collectively as a sector. Today's sessions are structured for deeper learning through a mix of panel discussions and small group discussions. This is the fifth annual session on decolonizing Vancouver's arts community by Salish Coast LIVE and Vancouver Moving Theatre/Heart of the City Festival.
$10-30 low-income / $30 regular admission / $60 large group rep/ $40 small group rep. Free for Coast Salish. (Click the ticket button and all of these options will appear. If purchasing a by donation pay the amount you can afford $10-30). If you have no access to a credit card email salishcoastlive@gmail.com
SCHEDULE FOR THURSDAY, NOVEMBER 7, 2019
9:30am registration, bannock & coffee
10:00am The State of Reconciliation and Redress with Cease Wyss, David Ng, and Irwin Oostindie. Let's talk about what we see happening and not happening in the arts and culture sector.
11:00 Coast Salish Cultural Sovereignty - Ronnie Dean Harris, Brandon Gabriel, Cease Wyss talk about Coast Salish cultural resurgence. Let's ground our placebased work by understanding more about the specific realities of local Coast Salish culture. Tasha Faye Evans will also contribute her case study of bringing back Coast Salish culture and presence to Port Moody.
1:00 Personal Change: What choices am i making through unlearning and taking action? We'll jump-start our small group discussions with Donna Clark.
1:45 Organisational Inventories: How are HR, programming, operations, and budgets best aligned to support redress and Coast Salish sovereignty. We'll jump-start our small group discussions with Heather Lamoureux and Lianne Payne.
2:30 Community Change: Moving beyond ourselves and our groups, how can we align our work with others for systemic change? We'll jump-start our small group discussions with Nancy Bleck.
3:15 Closing Plenary - Let's come back together and synthesize the work and share committments.
This is the fifth year Vancouver Moving Theatre / Heart of the City Festival and Salish Coast LIVE are collaborating... and this year we're going bigger with a full day! Every year it sells out in advance so don't wait til the last minute.
We believe in decolonizing Vancouver's arts community and recognize this is both an unlearning process individually, as well as work to inventory our organisations in order to then enable making change as a sector. Last year we realized it takes time to get past the individual work for settlers and migrants, and so we've added time to do more! Just a note of context, this training is of course welcoming (and most importantly) accountable to Coast Salish People, and is framed towards unpacking the settler privilege, not for general dialogue on reconciliation. There are lots of "reconciliation dialogues" in Vancouver already, and this is about redress, and specific to settlers and migrants getting out of the way, not in the way.
Bring your questions, your inventories, your successes, and your challenges!
VIDEOS from previous year's events:
- Making Coast Salish Territorial Acknowledgements Matter (4000 views!)
- We just put this one up! "Reconciliation and the Arts in Vancouver"