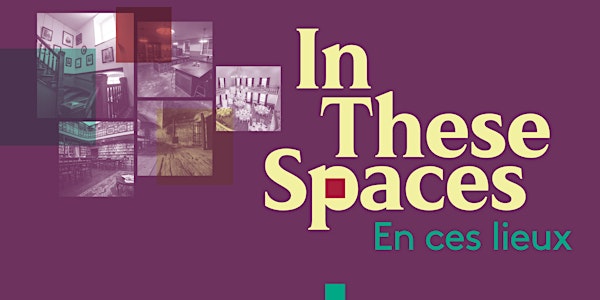 In These Spaces - History of Surgery
Come discover the history of surgery with Dr. Thomas Schlich!
Date and time
Starts on Thu, Mar 24, 2022 4:30 PM PDT
Refund Policy
Contact the organizer to request a refund.
Eventbrite's fee is nonrefundable.
About this event
Are you curious about science, architecture, artifacts, history or music? Throughout the upcoming In These Spaces project, participants will explore a diverse set of subjects using the Morrin Centre's spaces as a backdrop. Over the course of five live-streamed events, experts will talk about their field of expertise with our host.
How Surgery became Modern: Bodies, Instruments, Practitioners
Where does modern surgery as we know it come from? The answer lies in history. The history of modern surgery can be developed around three themes: first, the changes in the understanding of the body and its diseases; second, the development of surgical techniques, such as hemostatic forceps, anesthesia, or antisepsis; and third, the changing professional status of surgical practitioners from craftsmen to scientifically trained and specialized doctors. These interrelated changes occurred in the past two hundred years and led to the modern, highly technical, and scientific kind of surgery that we are familiar with today.
Guest - Dr. Thomas Schlich
Thomas Schlich, MD, is James McGill Professor in the History of Medicine at McGill University in Montreal, where he is Chair of the Department of Social Studies of Medicine. Trained as a physician, his research interests are the history of modern medicine, science, and technology (18th-21st centuries). He has published books on, among other things, the origins of organ transplantation, 1880s-1930s, and the history of operative treatment of broken bones, 1960s-1990s, and has recently edited the Palgrave Handbook of the History of Surgery (2017). He is currently working on a book about the history of modern surgery, 1800-1914, and another book on the history of the medical mask.
You will receive a Zoom link from info@morrin.org. Keep an eye on your spam inbox.
Please contact us if you have not received the link by the evening of Wednesday, March 23.
Voulez-vous en apprendre davantage sur la science, l'architecture, les artefacts, l'histoire ou la musique ? Tout au long du projet En ces lieux, les participant.e.s exploreront une variété de sujets avec les espaces du Morrin Centre comme arrière-plan. Durant les cinq présentations virtuelles, des expert.e.s discuteront de leur domaine d'expertise avec notre hôte Peter Black.
Comment la chirurgie est devenue moderne : corps, instruments et praticien.ne.s
Mais d'où viens la chirurgie moderne telle que nous la connaissons ? La réponse se trouve dans l'histoire. L'histoire de la chirurgie moderne peut être développée en trois thèmes: premièrement, les changements de compréhension du corps et de ses maladies ; deuxièmement, le développement de techniques chirurgicales comme les pinces hémostatiques, l'anesthésie, et l'antisepsie ; et troisièmement, le changement du statut professionnel des chirurgien.ne.s, passants d'artisan.e.s à docteur.e.s spécialisé.e.s et entrainé.e.s.  Ces changement inter-reliés ont eu lieu durant les deux derniers siècles et ont mené à la chirurgie moderne hautement technique et scientifique avec laquelle nous sommes familiers de nos jours.
Invité - Dr. Thomas Schlich
Thomas Schlich, MD, est James McGill Professor en Histoire de la médecine à l'université de McGill à Montréal, où il est directeur du département de sciences humaines en médecine. Formé en tant que physicien, ses intérêts de recherche sont l'histoire de la médecine, des sciences et de la technologie modernes (18ème au 21ème siècle). Il a publié des livres sur les origines du transplant d'organes des années 1880 à 1930 et sur l'histoire du traitement par opérations des os brisés dans les années 1960 à 1990, parmi d'autre sujets. Il a récemment édité le Palgrave Handbook of the History of Surgery (2017). Il travaille présentement sur un livre à propos de l'histoire de la chirurgie moderne, de 1800 à 1914, et sur un livre portant sur l'histoire du masque médical.
Vous receverez un lien Zoom venant de info@morrin.org. Gardez un oeil sur votre boite de pourriels.
Veuillez nous contacter si vous n'avez pas reçu le lien d'ici au soir du mercredi 23 mars.
About the organizer
As an English-language cultural centre located in the historical quarter of Quebec City, the Morrin Centre strives to be a leading cultural institution of national standing, providing the Francophone and Anglophone public with rich, engaging programming in the areas of heritage interpretation, education, and the arts.  Building upon our building's history and key institutions, our programming aims to provide historical perspective on Quebec City's unique French-English heritage, develop enhanced educational opportunities for youth,  and act as a springboard for artistic creativity.
--
Le Morrin Centre est un centre culturel de langue anglaise qui fait la promotion du patrimoine de la communauté anglophone à Québec, encourage les échanges culturels et offre une grande variété d'activités, telles que des services de bibliothèque, des visites guidées, des rencontres avec des auteurs, des ateliers d'écriture et un festival d'écrivains. Son édifice de 200 ans, situé au coeur du Vieux-Québec, est géré par la Literary and Historical Society of Quebec et fait partie des lieux historiques nationaux du Canada.