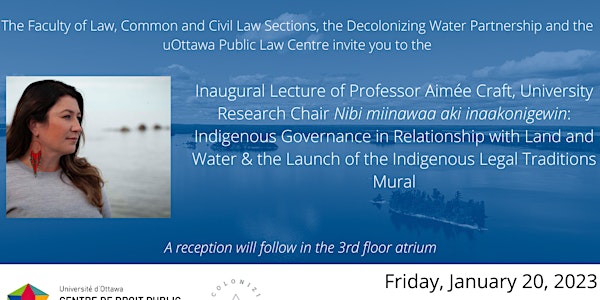 Inauguration de murale et conférence | Mural Launch and Inaugural Lecture
Conférence et lancement de la murale sur les traditions juridiques autochtones | Lecture & Launch of the Indigenous Legal Traditions
When and where
Location
Pavillon Fauteux 57 Louis-Pasteur Private Salle 302 Ottawa, ON K1N 9A7 Canada
About this event
Les sections de common law et de droit civil de la Faculté de droit, le Partenariat Decolonizing Water et le Centre de droit public de l'Université d'Ottawa vous invitent à la conférence inaugurale de la professeure Aimée Craft, titulaire de la Chaire de recherche universitaire Nibi miinawaa aki inaakonigewin : La gouvernance autochtone en relation avec la terre et l'eau, et le lancement de la murale sur les traditions juridiques autochtones.
De plus, une murale est en cours de réalisation au 3e étage de Fauteux, le domicile de la Faculté de droit de l'Université d'Ottawa. La murale a conçu par un collectif d'artistes autochtones (Onaman Collective) afin de représenter les enseignements et les principes juridiques anishinaabe. Cette murale servira d'outil d'enseignement et comme rappel de l'importance des traditions juridiques autochtones en droit canadien. Ce projet représente un engagement envers les ordres juridiques autochtones et l'enseignement dans les facultés de droit, conformément à l'appel à l'action no 28 de la Commission de vérité et réconciliation.
****
The Faculty of Law, Common and Civil Law Sections, the Decolonizing Water Partnership and the uOttawa Public Law Centre invite you to the Inaugural Lecture of Professor Aimée Craft, University Research Chair Nibi miinawaa aki inaakonigewin: Indigenous Governance in Relationship with Land and Water & the Launch of the Indigenous Legal Traditions Mural
In addition, a mural is being painted on the third floor of Fauteux Hall, the current home of the University of Ottawa's Faculty of Law. The mural has been designed by an Indigenous art collective (Onaman Collective) to reflect Anishinaabe teachings and legal principles. The mural will be a teaching tool and a reminder of the importance of Indigenous legal traditions in Canadian law. This project represents a commitment to Indigenous legal orders and education in law schools, in line with the Truth and Reconciliation Call to Action 28.