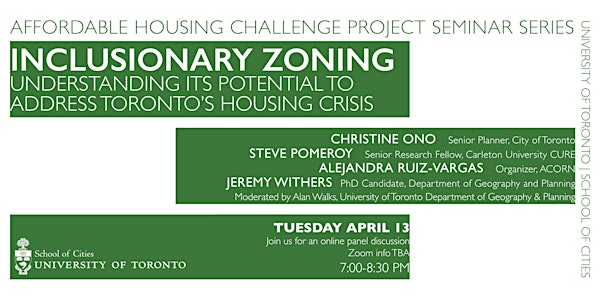 Inclusionary Zoning: Its Potential to Address Toronto's Housing Crisis
A panel discussion on the potential for an inclusionary zoning policy to address Toronto's housing crisis.
About this event
Speakers:
Christine Ono - Senior Planner, City of Toronto
Steve Pomeroy - Senior Research Fellow, Centre for Urban Research Education (CURE), Carleton University
Alejandra Ruiz-Vargas - Organizer, ACORN
Jeremy Withers - PhD Candidate, Department of Geography and Planning, University of Toronto
Moderated by Alan Walks, Professor, Department of Geography and Planning, University of Toronto
Event Description:
Join us for a free webinar on the evening of April 13th. Toronto is months away from debating and implementing Inclusionary Zoning (IZ) — a policy that could create thousands of affordable rental units every year simply by requiring developments include them. This event convenes academics, politicians, and activists to discuss their perspectives on the potential of IZ to address Toronto's affordable housing crisis.
Instructions for Attending the Webinar (via Zoom):
Password and details to access the seminar will be emailed out ahead of the event. Note, you must register for this event on Eventbrite to receive your access password.
For accessibility purposes, closed captioning will be available.