Inclusive Innovation in Research - International Women's Day
A virtual event to gain practical insight on the impact of equity, diversity and inclusivity in innovative research
About this event

Join us as we celebrate International Women's Day by welcoming speakers and panel members to share their knowledge and expertise on how we can incorporate equity, diversity and inclusion practices when building research and innovation teams.
Dr. Dominique Bérubé, VP of Research at SSHRC, is our MC for the event, providing introductory remarks and guiding us through the two panel sessions.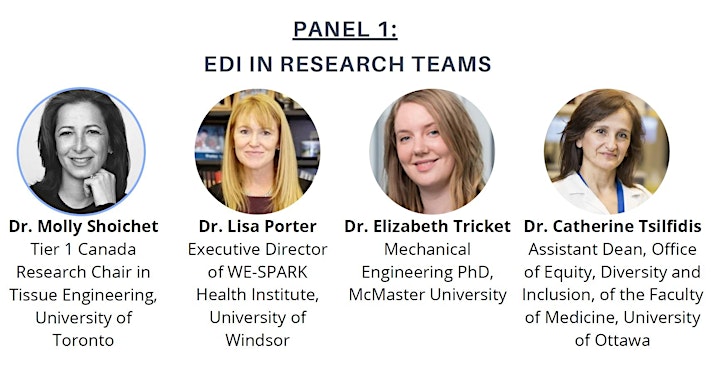 Panel 1: EDI in Research Teams
Dr. Molly Shoichet will provide opening remarks and lead the panel discussion on the impact of diversity on innovation in research.
Professor Shoichet holds the highest distinction at the University of Toronto of University Professor.  She served as Ontario's first Chief Scientist in 2018. Dr. Shoichet has published over 650 papers, patents and abstracts and has given 420+ lectures worldwide. She leads a laboratory of 32 and has graduated 200+ researchers. Her research is focused on engineering strategies to regenerate the brain and model cancer. Dr. Shoichet co-founded four spin-off companies, and is actively engaged in translational research and science outreach. Dr. Shoichet has won numerous awards including the top prize in science in Canada, the Herzberg Gold Medal (in 2020).
Panelists
Dr. Lisa Porter is the Executive Director of WE-SPARK Health Institute and a Professor in the Department of Biomedical Sciences at the University of Windsor. She completed her Ph.D. at McMaster University (Hamilton, ON) in the Department of Medical Sciences and was a Post-doctoral Fellow at the University of California San Diego (La Jolla, CA). Dr. Porter is the recipient of many Awards and Honours, including the Research Impact Award, Faculty of Science (2019), the David Kelly Award for Community Service, Brain Tumour Foundation of Canada (2018), and the College of New Scholars, Artists and Scientists of the Royal Society of Canada (2014). Dr. Porter was a founding member of the Windsor Cancer Research Group and continues to sit on the Executive Committee. She is a Canadian Institutes of Health Research (CIHR) University Delegate, a Member of the College of Reviewers and a Scientific Member of the Barbara Ann Karmanos Tumor and Microenvironment Program. Dr. Porter has authored/co-authored book chapters, manuscripts and numerous peer-reviewed publications and has been invited to present her research across Canada and in the U.S. and Europe. Her research focus is Cell Cycle Checkpoints in Stem Cell Biology, the Initiation/Progression of Disease and Responsiveness to Treatments, Mouse & Zebrafish Genetics, Patient Xenograft and Organoid Model.
Dr. Elizabeth Trickett, is a recent Ph.D. graduate in Mechanical Engineering from McMaster University under the supervision of Dr. Ali Emadi. As part of Dr. Emadi's team at the McMaster Automotive Resource Centre (MARC), she specialized in solving the materials and thermal challenges in highly interdisciplinary industrial projects. She received her B.Sc. in Physics (Hon) in 2011, and her M.ASc. in Materials Science and Engineering in 2013; both from McMaster University. Before starting her Ph.D. in 2015, she worked at CanmetMATERIALS, a Natural Resources Canada laboratory, in Hamilton, Ontario. She is currently teaching at the University of Calgary, before joining the Canadian space industry.
Dr. Catherine Tsilfidis is a Senior Scientist in the Neuroscience Program of the Ottawa Hospital Research Institute and an Associate Professor in the Departments of Ophthalmology and Cellular and Molecular Medicine at the Faculty of Medicine, University of Ottawa. She has an active research program focused on vertebrate regeneration and on gene therapy for blinding diseases of the retina. Dr. Tsilfidis holds the Don and Joy MacLaren Chair in Vision Research.  Dr. Tsilfidis is also the Assistant Dean of the Equity, Diversity and Inclusion Office of the Faculty of Medicine. She has helped to develop and deliver workshops on discrimination, harassment and intimidation to medical students, residents and graduate students, and has started mentoring programs for female post-doctoral fellows and for LGBTQ2SA+ learners within the Faculty of Medicine. She has also developed workshops on unconscious bias, which are now mandatory for all members of search committees. Dr. Tsilfidis is passionate about promoting the advancement of women in science and helping to promote a climate which is free of discrimination and inequity for all members of the Faculty of Medicine.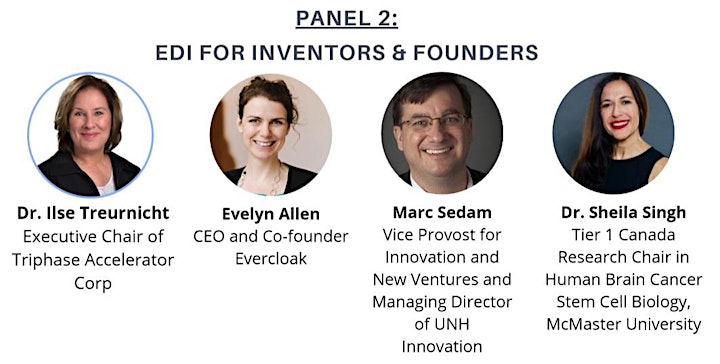 Panel 2: EDI for Inventors and Founders
Dr. Ilse Treurnicht will provide opening remarks and lead the panel addressing overcoming barriers to women and equity seeking researchers in achieving entrepreneurial success.
Dr. Treurnicht's career spans scientific research and commercialization, building health and cleantech firms, venture/impact capital and public policy. Ilse served as CEO of MaRS (marsdd.com) in Toronto from 2005-2017, overseeing its development into a leading urban innovation hub. She holds a doctorate in Chemistry from Oxford University, which she attended as a Rhodes Scholar.
Panelists
Evelyn Allen is a professional engineer with 15 years of experience leading the design and commissioning of industrial on-site wastewater treatment systems, implementing large innovative government-funded initiatives focused on advancing agri-food and water technologies and securing strategic corporate partnerships for the University of Waterloo within the cleantech sector. Evelyn has a bachelor's degree in engineering physics from McMaster University and a master's in environmental engineering from the University of Guelph.
Marc Sedam is Vice Provost for Innovation and New Ventures and Managing Director of UNHInnovation. Sedam has an extensive background in intellectual asset management, licensing, and start‐up formation. Sedam serves as the Executive Director of the New Hampshire Innovation Research Center; is the current Chair of AUTM, a global nonprofit leader in efforts to educate, promote and inspire professionals to support the development of academic research; was the founding director of the Peter T. Paul Entrepreneurship Center; and is the Principal Investigator of UNH's National Science Foundation I‐Corps Site, among numerous other initiatives in entrepreneurship and research. Prior to UNH, Sedam was the Chief Operating Officer of Qualyst, Inc., and served as the Associate Director for Life Sciences of the Technology Transfer Office at the University of North Carolina at Chapel Hill. Sedam has a B.S. in biochemistry from the University of New Hampshire and an MBA from the University of North Carolina at Chapel Hill. Sedam is internationally recognized as an expert in innovation commercialization, early stage startup support, regional ecosystem development, technology transfer, and innovation policy.
Dr. Sheila Singh is a professor of surgery and biochemistry, chief pediatric neurosurgeon at McMaster Children's Hospital, Division Head of Neurosurgery at Hamilton Health Sciences, and scientist appointed to the Stem Cell and Cancer Research Institute at McMaster University. She holds a Tier 1/ Senior Canada Research Chair in Human Brain Cancer Stem Cell Biology, and is Director of the McMaster Surgeon Scientist Program. Her PhD thesis described the novel identification of a population of cancer stem cells that exclusively drive the formation of brain tumours. Since 2007, Dr. Singh's lab applies a developmental neurobiology framework to the study of brain tumorigenesis. Building upon previous cell culture techniques developed for the isolation of normal neural stem cells (NSC) and applying them to brain tumours, and through development of a xenograft model to efficiently study brain tumour initiating cell (BTIC) activity, Dr. Singh's lab aims to understand the molecular mechanisms that govern BTIC self- renewal. Dr. Singh is currently studying the regulation of BTIC signaling pathways in glioblastoma, brain metastases and childhood medulloblastoma, with an ultimate goal of selectively targeting the BTIC with appropriately tailored drug and molecular therapies. Her laboratory is funded by CCSRI, CIHR, TFRI, CRS, the Stem Cell Network, McMaster Surgical Associates, Brain Canada and the Boris Family Fund. She is scientific founder and interim CEO of a start-up company, Empirica Therapeutics, a brain cancer therapeutics company that is seeking new, data-driven and polytherapeutic treatment options for patients with Glioblastoma and brain metastases. Empirica aims to translate research discoveries co-developed at McMaster University and University of Toronto through clinical trials and into the clinic.