It's not enough to just teach kids how to code anymore, we must also teach them the importance of making ethical and thoughtful decisions.
About this Event
The Algorithmic Bias virtual workshop day is the first of three workshops in our Tech Ethics & Bias weekend workshop series in March. This day will feature a keynote followed by two workshops focused on algorithmic bias.
Events:
Algorithmic bias keynote speech
Intro to bias and algorithmic bias workshop
Mitigating algorithmic bias workshop
During our interactive workshops, we will discuss what bias is, how bias can seep into the technology we make and the kinds of problems we solve. We will discuss what algorithmic bias is, why we need to solve for it and how it shows up in facial recognition software, recommender systems and self-driving cars.
Our weekend series is a first-of-its-kind workshop series for middle and high school students around the world who are aspiring to enter the technology field. Students from diverse backgrounds will leave the workshop days feeling inspired and empowered, with a more nuisance perspective of what it takes to be impactful technologists and a firm belief that technology and society are deeply intertwined.
Other events in the series:
We believe it's never too early to start teaching kids about how powerful technology is and equip them with the skills and tools to ensure they are making tech that have a large scale positive impact.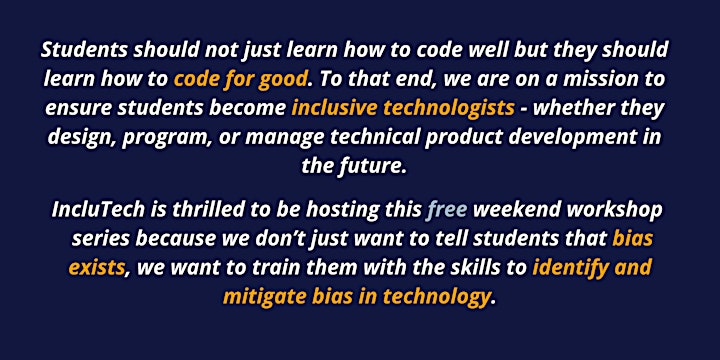 During the weekend series, you will:
Join small workshops of 8-10 students to learn about tech bias and ethics and what technologists need to consider when making tech products
Learn about algorithmic bias, how to mitigate it and why it is important to create tech products that are equitable and do not discriminate based on race, gender and ability.
Learn how to design tech products that aim to consider all users
Participate in fun coding, discussion and design activities
Learn actionable skills you can develop to ensure you are being inclusive in your every day life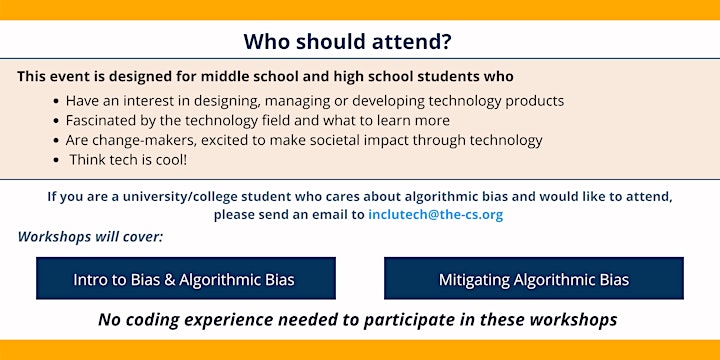 About IncluTech
IncluTech is a program at The Coding School whose mission is to educate, empower and lead the next generation of inclusive technologists. We define an inclusive technologist as a highly skilled individual who thinks critically bout how the technology being created impacts different kinds of people and employs strategies to mitigate bias. IncluTech was created to address gaps in our coding education to ensure that our students don't just learn how to make powerful technology but begin developing the skills to think critically about who technology affects, how and why. As an organization teaching young children and teenagers coding skills, we believe we are uniquely positioned to educate them on how they can use technology to create a more equitable world.