"Income Sprinkling" - Navigating the Tax On Split Income Changes
Description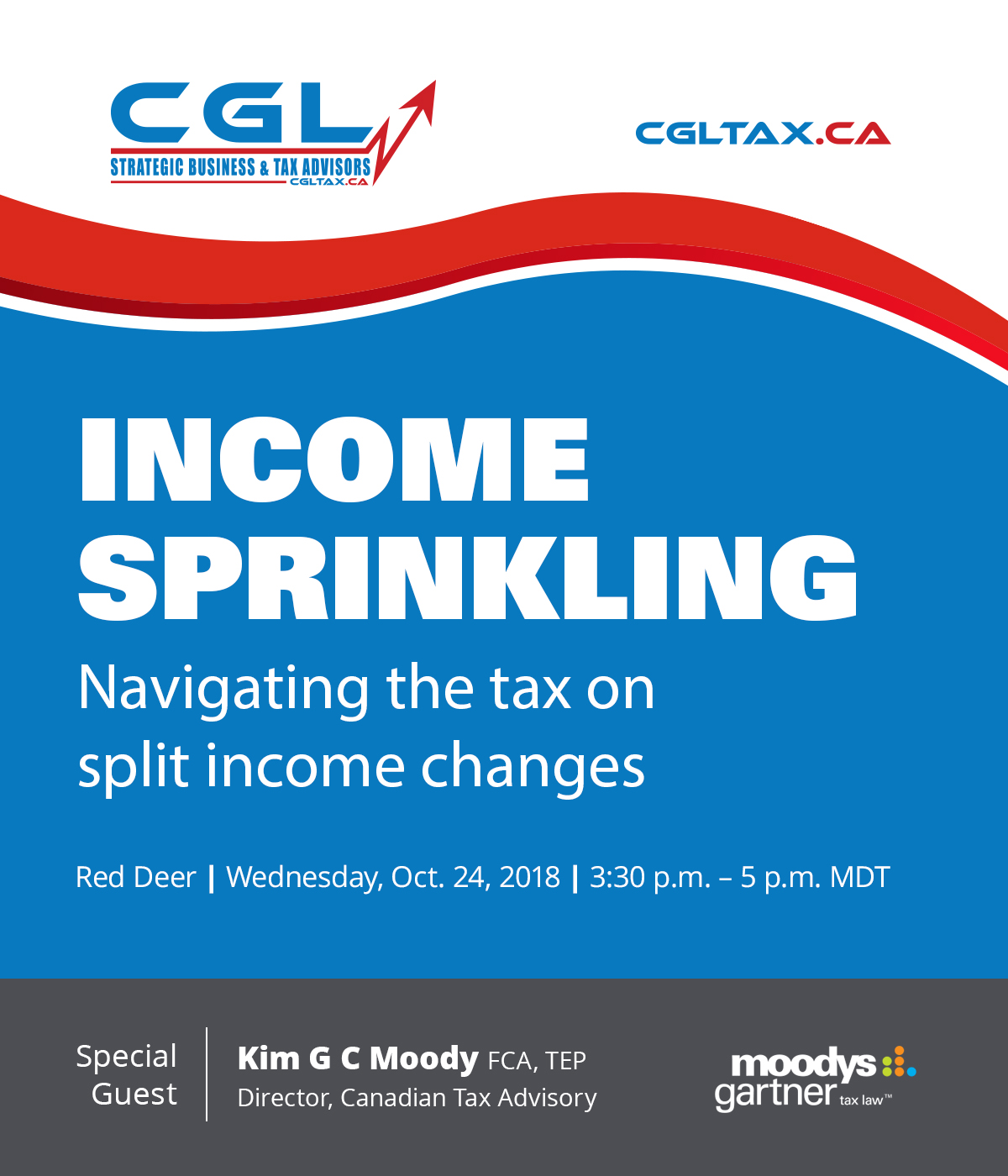 Presented by:
Cory G. Litzenberger, CPA, CMA, CFP, C.Mgr (President & Founder, CGL Strategic Business & Tax Advisors),
along with special guest and past chair of the CBA/CPA Joint Committee on Taxation:
Kim G C Moody FCA, TEP (Director, Canadian Tax Advisory, Moodys Gartner Tax Law).
On Wednesday, October 24th, 2018, our close friend from Calgary Kim G C Moody of Moodys Gartner Tax Law will be joining us to speak on Income Sprinkling and how to navigate the tax on split income changes.
The Department of Finance released version 3 of the "income sprinkling" rules, which are now effective as of January 1, 2018. While the third version is less convoluted than the first, the new laws are extremely complex and very far-reaching, containing traps for the unwary and apply to most owners of private businesses in Canada. These new rules will require accounting and tax practitioners to be up to speed on how they apply in 2018. While this seminar will be geared towards advisors of private businesses – especially accountants, lawyers, bankers, and wealth management advisors – all affected parties are welcome. On October 24th, we will cover:
An overview of version 3 of the new law;

Suggested best practices for 2018 for private business owners and their advisors in light of the new law;

Tips and traps; and

Alternatives for family remuneration to reduce the impact of the new law.
Date: October 24, 2018
Time: 3:30 pm – 5:00 pm MST
Investment: $50 (taxes included)
Registration: Online or contact Lori Hrushka of CGL Strategic Business & Tax Advisors at 403-986-3829 or Nicole Hryn of Moodys Gartner Tax Law LLP at 403-693-5132.