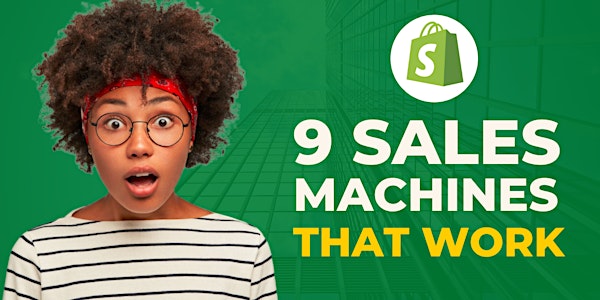 Increase Shopify Sales Fast - 9 Strategies to Grow Your Shopify Business
Struggling to make sales on Shopify? Join this Youtube training to see tips to increase your sales in no time.
About this event
Increase Shopify Sales Fast - How to Grow Your Shopify Business - Live Tutorial
NOTE: Meeting access information is provided when you register.
About Me
Hi, I am Samuel. I am the proud owner of Paperless Books - a bookkeeping company based in Canada. I help Canadians focus on their business while I manage their bookkeeping in Quickbooks Online (and sometimes Xero).
I have been using Quickbooks for over 7 years in house at various accounting firms and as a business owner. With Quickbooks, I have been able to show businesses things they may not be aware of. Things like how much cash has been used in their business, if they are making true profit, how much personal money they are taking from the business, who they owe, how much inventory is left in their business, and more.
I have worked with many different businesses including: Business startups • E-commerce businesses • Freelancers • Consulting businesses • Marketing businesses • Cleaning / Janitorial services • Paralegal Services • Shopify stores • Graphic Designers • Uber / SkiptheDishes businesses • Nail Salon businesses • Retail business • Photographers • Landscape services • Online businesses • Etsy business • Dropshipping business • Inventory businesses • Rental Property business
It is with this knowledge that I would love to share with other business owner who want to manage their own books, fix issues, or are just curious about Quickbooks.
What is Shopify?
Shopify is a complete commerce platform that lets you start, grow, and manage a business.
Shopify unifies all of your commerce onto a single platform.
With Shopify, merchants can build and customize an online store and sell in multiple places, including web, mobile, in person, brick-and-mortar locations, and pop-up shops and across multiple channels from social media to online marketplaces.
Shopify is completely cloud-based and hosted, which means you can access it from any connected compatible device and we'll handle software and server upgrades and maintenance for you. This gives you the flexibility to access and run your business from anywhere with an internet connection.
On any given day, a commerce business requires an array of tools to manage products, inventory, payments, and shipping—and they spend a lot of time and money stitching the disparate systems and data together. Shopify groups those technologies together and ensures that you can easily access and integrate any other business tools you need to make Shopify work for your business.
What to Expect in this Event
This is a tutorial on Youtube on proven methods you can use to increase sales for your Shopify business.
The event will take place via a Youtube link.
In this seminar, we will disucss things you can implement on your Shopify store today to increase sales.
The event is meant to give you a brief overview of each component so that you can manage or understand how the software works.
These Items May Be Helpful to You
For those looking for a more extensive training on Quickbooks - contact me here: paperlessbooksca@gmail.com
Looking for a bookkeeper in Canada? If so, skip the training and hand over your bookkeeping to a dedicated team. Check out our plans here:
https://paperlessbooks.ca/bookkeeping-tax-services
Want 70% OFF Quickbooks for 3 months, check out the link below: