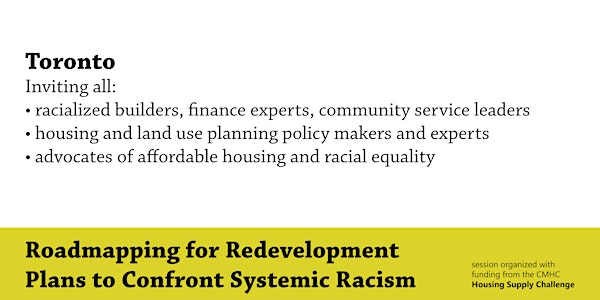 Increasing Affordable Housing Supply & Lowering Displacement of Renters
Pull up a seat at the table! We're mapping assets and building networks to create more affordable housing in the City of Toronto.
When and where
Location
504 Oakwood Ave 504 Oakwood Avenue Toronto, ON M6E 2X1 Canada
About this event
Online: https://us02web.zoom.us/meeting/register/tZAvduqvqTgqHNNtE5M2kZeks27knfla0Sfx
in person: 504 Oakwood Ave
This event is hybrid. The in person will be hosted at For Youth Initiative at 504 Oakwood Ave in Little Jamaica, Oakwood-Vaughan. The online session will be hosted on Zoom
About
You are invited to join a workshop on how community can activate its expertise to build and implement solutions to increase housing affordability and security for racialized renters in the City of Toronto. This network is primarily focused on neighbourhoods adjacent to existing, under construction, and planned LRTs, subways, or GO stations.
Topics discussed:
general update on the CMHC Housing Supply Challenge
summary of research findings on the intersection of systemic racism, housing, and planning engagement
workshop and knowledge building on methods for increasing the inclusion of racialized people in affordable housing planning, development, management
networking!
This workshop is part of the process of exploring the design of what CP Planning and partners are proposing as the Network Roadmapping for Redevelopment Plans to Confront Systemic Racism. This Network aims to support organizations and communities collaborate with municipal planning bodies to establish flexible processes, collaborative tools, and community supports that will result in shortened approval times for the development of affordable housing and an increase in the role of racialized people in planning, building, and managing affordable housing.
Network solutions being developed include:
Tools and processes that prepares development plans to provide affordable housing for renters displaced due to demolition, renovation, or rent increases
Tool and processes that notifies tenants and non-profits about local affordable housing applications, so they are able to express their support for it
Connecting non-profits with experts and funders of affordable housing development, to boost their capacity to understand planning, propose, and build affordable housing
Increasing the representation of Black, Indigenous, and diverse racialized people of colour within pre-development planning, affordable housing delivery and operations
Who will be in attendance? Policy Developers, Land Developers, Housing Service Providers, Community Members, Innovative Thought Leaders. We look forward to hearing from you and seeing you!
For more information on the Canadian Mortgage and Housing Corporation (CMHC) Housing Supply Challenge, click here.