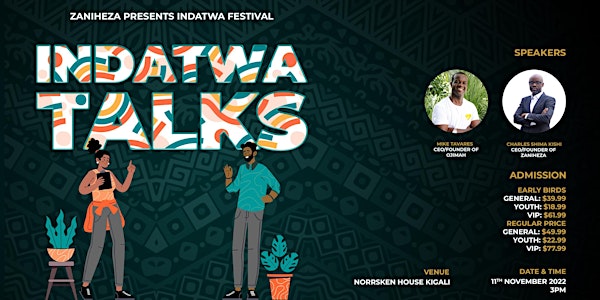 Indatwa Talks
Indatwa Talks is an intersection of technology and culture. Featuring wold class-speakers who dream big for our world.
When and where
Location
Norrsken House Kigali KN 78 Street Kigali, Kigali City Rwanda
About this event
Indatwa Gala happens on Day 1 of Indatwa Festival and is brought to you by ZaNiheza - Africa's first travel marketplace for immersive experiences. Attendees from all over the world are welcome to join us in Remarkable Rwanda.
Celebrate the resilience of tourism in Africa. Indatwa Talks features innovative movers with inspiring messages.
We will be adding more speakers every month.
Read more about our confirmed speakers here:
Charles Shima Kishi => Founder/CEO Of ZaNiheza: He started the journey in 2019 upon his return from Rwanda, East Africa. He is responsible for setting the overall direction and product strategy for the company. Charles Kishi is passionate about excellent customer service, travel, and culture.
Read about Charles Shima Kishi In the Press here.
Read about ZaNiheza here.
Mike Tavares => After graduating with a master's degree in Tourism and Hospitality Management at the University of Coimbra in Portugal, Mike started his career by working for the Portuguese National Tourism Board. Years later, he made his way up to hotel management in brands like Radisson and Intercontinental in the United Kingdom.
With international exposure, Mike and his team created Ojimah, a multichannel platform aimed at developing the economy of Africa through sustainable tourism.
Read about Mike Tavares In the Press here
Read about Ojimah here