INDIA: Gurmat Crash Course >Guru Nanak Saahibji -Life Sketch
Sales Have Ended
Registrations are closed
Waheguruji Ka Khalsa Waheguruji Ki Fateh Pls go to www.gurmatcrashcourse.com and watch help videos on how to register. Pls note all candidates will receive a fresh ZOOM registration link very soon by email. Gurmat regards @gurmatcrashcourse
Sales Have Ended
Registrations are closed
Waheguruji Ka Khalsa Waheguruji Ki Fateh Pls go to www.gurmatcrashcourse.com and watch help videos on how to register. Pls note all candidates will receive a fresh ZOOM registration link very soon by email. Gurmat regards @gurmatcrashcourse
PLEASE READ THE INSTRUCTIONS CAREFULLY WHEN REGISTERING AND MAKE SURE TO READ THE EMAIL YOU RECEIVE AFTER SIGN UP PROPERLY !
About this event
THIS CRASH COURSE IS FOR INDIAN RESIDENT STUDENTS.
OTHER COUNTRIES CAN ATEND BUT TIMINGS WILL BE INDIAN STANDARD TIME.
ONLY RESIDENTS OF INDIA WILL BE ELIGIBLE FOR THE GRAND PRIZES.
LOCAL CANADIAN STUDENTS WILL BE AWARED ONLY CERTIFICATES & TROPHIES
ਇਹ ਕਰੈਸ਼ ਕੋਰਸ ਭਾਰਤੀ ਵਿਦਿਆਰਥੀਆਂ ਲਈ ਹੈ.
ਹੋਰ ਦੇਸ਼ ਸਮੇਂ 'ਤੇ ਹਾਜ਼ਰ ਹੋ ਸਕਦੇ ਹਨ ਪਰ ਭਾਰਤੀ ਮਿਆਰੀ ਸਮਾਂ ਹੋਵੇਗਾ.
ਸਿਰਫ ਭਾਰਤ ਦੇ ਨਿਵਾਸੀ ਗ੍ਰੈਂਡ ਇਨਾਮਾਂ ਲਈ ਯੋਗ ਹੋਣਗੇ.
ਸਥਾਨਕ ਕੈਨੇਡੀਅਨ ਵਿਦਿਆਰਥੀਆਂ ਨੂੰ ਸਿਰਫ ਸਰਟੀਫਿਕੇਟ ਅਤੇ ਟ੍ਰਾਫੀਆਂ ਨਾਲ ਹੀ ਸਨਮਾਨਿਤ ਕੀਤਾ ਜਾਵੇਗਾ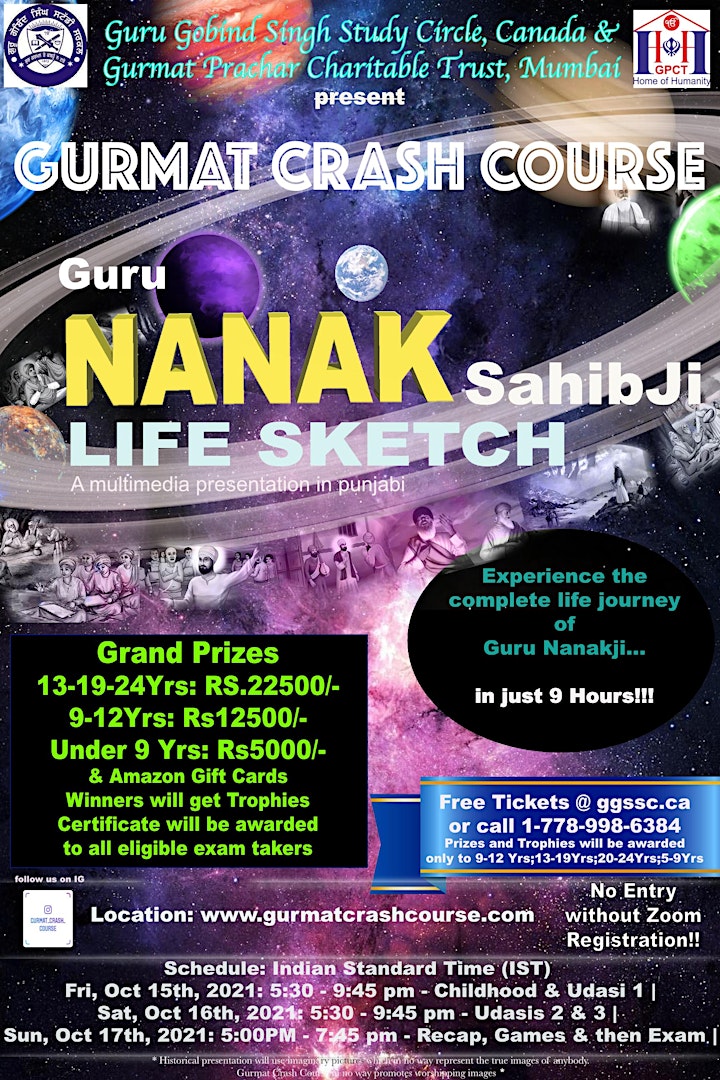 Waheguruji Ka Khalsa Waheguruji Ki Fateh,
VERY IMPORTANT: If you use any surname other than SINGH or KAUR you will be disqualified from the exam at a later stage. If you are NOT A SIKH You can write your legal last name. Legal Names will be verified at the time of prize delivery and if they do not match prize will not be awarded.
PLEASE ENTER YOUR EMAIL AND ALL OTHER INFO CORRECTLY, AS WE WONT BE ABLE TO CHANGE THE EMAIL OR INFO LATER. ADDITIONALLY IF YOU BECOME WINNER WITH WRONG INFO IN REGISTRATION YOUR GIFT WILL STAND CANCELLED!!
PLEASE NOTE EMAILS CANNOT BE CHANGED LATER, SO DO NOT REGISTER WITH EMAILS YOU CANNOT ACCESS!! SEVADARS CANNOT HELP IN CHANGING EMAILS LATER. YOU WILL HAVE TO RE REGISTER AND REQUEST FOR CANCELLATION OF PREVIOUS REGISTRATION!!
By Signing Up you consent to
1-GGSSC sevadars using your personal information for the delivery of the course, exam and the prizes
2- Addition to a WhatsApp group or an alternative messaging software for communication purposes.
3- To follow rules as announced from time to time
4- To register on the Zoom Invite You will Receive few days after registration
5- To keep your head covered and mike muted unless requested by the host
6-To keep your video 'ON' at all times as keeping the video off will again disqualify you from the final prizes and possibly certificate of attendance
7- To register on speedexam.net with a valid front facing full view photo with HEAD COVERED if you are 9 years and above. The link to register will be sent in the confirmation email
8- To arrange a compatible device, internet and other resources at your own cost to attend and give exam without interruption so you can complete the exam.
Who can attend: EVERYBODY
Who can give exam: Only up to age 26Yrs
Who will get certificates and/or prizes: Only ages up to 26 Yrs who complete the exam. If your exam terminates due to internet issues or incompatibility GGSSC Canada cannot provide re exam.
Thanks in advance
GURMAT CRASH COURSE TEAM
www.ggssc.ca
Instagram @gurmat_crash_course ; @thegurusway
Facebook: @gurmatcrashcourse
GRAND WINNERS OF PREVIOUS CRASH COURSES WILL ONLY RECEIVE HONORARY MENTIONS !!
ਵਾਹਿਗੁਰੂਜੀ ਕਾ ਖਾਲਸਾ ਵਾਹਿਗੁਰੂਜੀ ਕੀ ਫਤਿਹ,
ਬਹੁਤ ਮਹੱਤਵਪੂਰਨ: ਜੇ ਤੁਸੀਂ ਸਿੰਘ ਜਾਂ ਕੌਰ ਤੋਂ ਇਲਾਵਾ ਕਿਸੇ ਹੋਰ ਉਪਨਾਮ ਦੀ ਵਰਤੋਂ ਕਰਦੇ ਹੋ ਤਾਂ ਤੁਹਾਨੂੰ ਬਾਅਦ ਦੇ ਪੜਾਅ 'ਤੇ ਪ੍ਰੀਖਿਆ ਤੋਂ ਅਯੋਗ ਕਰ ਦਿੱਤਾ ਜਾਵੇਗਾ. ਜੇ ਤੁਸੀਂ ਸਿੱਖ ਨਹੀਂ ਹੋ ਤਾਂ ਤੁਸੀਂ ਆਪਣਾ ਕਾਨੂੰਨੀ ਅਖੀਰਲਾ ਨਾਮ ਲਿਖ ਸਕਦੇ ਹੋ. ਇਨਾਮਾਂ ਦੀ ਸਪੁਰਦਗੀ ਦੇ ਸਮੇਂ ਕਾਨੂੰਨੀ ਨਾਮਾਂ ਦੀ ਤਸਦੀਕ ਕੀਤੀ ਜਾਏਗੀ ਅਤੇ ਜੇ ਉਹ ਮੇਲ ਨਹੀਂ ਖਾਂਦੇ ਤਾਂ ਇਨਾਮ ਨਹੀਂ ਦਿੱਤਾ ਜਾਵੇਗਾ.
ਕਿਰਪਾ ਕਰਕੇ ਆਪਣੀ ਈਮੇਲ ਅਤੇ ਹੋਰ ਸਾਰੀ ਜਾਣਕਾਰੀ ਸਹੀ ਰੂਪ ਵਿੱਚ ਦਾਖਲ ਕਰੋ, ਜਿਵੇਂ ਕਿ ਅਸੀਂ ਈਮੇਲ ਜਾਂ ਬਾਅਦ ਵਿੱਚ ਜਾਣਕਾਰੀ ਨੂੰ ਬਦਲਣ ਦੇ ਯੋਗ ਨਹੀਂ ਹੋਵਾਂਗੇ. ਅਤਿਰਿਕਤ ਜੇ ਤੁਸੀਂ ਰਜਿਸਟ੍ਰੇਸ਼ਨ ਵਿੱਚ ਗਲਤ ਜਾਣਕਾਰੀ ਦੇ ਨਾਲ ਜੇਤੂ ਬਣ ਜਾਂਦੇ ਹੋ ਤਾਂ ਤੁਹਾਡਾ ਤੋਹਫ਼ਾ ਰੱਦ ਹੋ ਜਾਵੇਗਾ !!
ਕਿਰਪਾ ਕਰਕੇ ਨੋਟ ਕਰੋ ਕਿ ਈਮੇਲਾਂ ਨੂੰ ਬਾਅਦ ਵਿੱਚ ਬਦਲਿਆ ਨਹੀਂ ਜਾ ਸਕਦਾ, ਇਸ ਲਈ ਈਮੇਲਾਂ ਦੇ ਨਾਲ ਰਜਿਸਟਰ ਨਾ ਹੋਵੋ ਤੁਸੀਂ ਪਹੁੰਚ ਨਹੀਂ ਕਰ ਸਕਦੇ !! ਸੇਵਾਦਾਰ ਬਾਅਦ ਵਿੱਚ ਈਮੇਲਾਂ ਨੂੰ ਬਦਲਣ ਵਿੱਚ ਸਹਾਇਤਾ ਨਹੀਂ ਕਰ ਸਕਦੇ. ਤੁਹਾਨੂੰ ਪਹਿਲਾਂ ਰਜਿਸਟ੍ਰੇਸ਼ਨ ਰੱਦ ਕਰਨ ਦੀ ਬੇਨਤੀ ਕਰਨੀ ਪਵੇਗੀ ਅਤੇ ਬੇਨਤੀ ਕਰਨੀ ਪਵੇਗੀ!
ਸਾਈਨ ਅਪ ਕਰਕੇ ਤੁਸੀਂ ਸਹਿਮਤੀ ਦਿੰਦੇ ਹੋ
1-ਜੀਜੀਐਸਐਸਸੀ ਸੇਵਾਦਾਰ ਕੋਰਸ, ਪ੍ਰੀਖਿਆ ਅਤੇ ਇਨਾਮਾਂ ਦੀ ਸਪੁਰਦਗੀ ਲਈ ਤੁਹਾਡੀ ਨਿੱਜੀ ਜਾਣਕਾਰੀ ਦੀ ਵਰਤੋਂ ਕਰਦੇ ਹੋਏ
2- ਸੰਚਾਰ ਦੇ ਉਦੇਸ਼ਾਂ ਲਈ ਇੱਕ ਵਟਸਐਪ ਸਮੂਹ ਜਾਂ ਇੱਕ ਵਿਕਲਪਕ ਮੈਸੇਜਿੰਗ ਸੌਫਟਵੇਅਰ ਵਿੱਚ ਜੋੜਨਾ.
3- ਸਮੇਂ ਸਮੇਂ ਤੇ ਘੋਸ਼ਿਤ ਕੀਤੇ ਗਏ ਨਿਯਮਾਂ ਦੀ ਪਾਲਣਾ ਕਰਨਾ
4- ਜ਼ੂਮ ਇਨਵਾਈਟ 'ਤੇ ਰਜਿਸਟਰ ਕਰਨ ਲਈ ਤੁਹਾਨੂੰ ਰਜਿਸਟ੍ਰੇਸ਼ਨ ਦੇ ਕੁਝ ਦਿਨਾਂ ਬਾਅਦ ਪ੍ਰਾਪਤ ਹੋਵੇਗਾ
5- ਆਪਣੇ ਸਿਰ ਨੂੰ coveredੱਕ ਕੇ ਰੱਖਣ ਅਤੇ ਮਾਈਕ ਨੂੰ ਚੁੱਪ ਰੱਖਣ ਲਈ ਜਦੋਂ ਤੱਕ ਹੋਸਟ ਦੁਆਰਾ ਬੇਨਤੀ ਨਹੀਂ ਕੀਤੀ ਜਾਂਦੀ
6- ਆਪਣੇ ਵੀਡੀਓ ਨੂੰ ਹਰ ਸਮੇਂ 'ਚਾਲੂ' ਰੱਖਣ ਲਈ ਕਿਉਂਕਿ ਵੀਡੀਓ ਨੂੰ ਬੰਦ ਰੱਖਣਾ ਤੁਹਾਨੂੰ ਦੁਬਾਰਾ ਅੰਤਿਮ ਇਨਾਮਾਂ ਅਤੇ ਸੰਭਵ ਤੌਰ 'ਤੇ ਹਾਜ਼ਰੀ ਦੇ ਸਰਟੀਫਿਕੇਟ ਤੋਂ ਅਯੋਗ ਕਰ ਦੇਵੇਗਾ.
7- ਜੇਕਰ ਤੁਸੀਂ 9 ਸਾਲ ਅਤੇ ਇਸਤੋਂ ਵੱਧ ਉਮਰ ਦੇ ਹੋ ਤਾਂ ਸਿਰਲੇਖ ਦੇ ਨਾਲ ਇੱਕ ਵੈਧ ਫਰੰਟ ਫੇਸਿੰਗ ਫੁੱਲ ਵਿ view ਫੋਟੋ ਦੇ ਨਾਲ speedexam.net ਤੇ ਰਜਿਸਟਰ ਕਰਨ ਲਈ. ਰਜਿਸਟਰ ਕਰਨ ਲਈ ਲਿੰਕ ਪੁਸ਼ਟੀ ਈਮੇਲ ਵਿੱਚ ਭੇਜਿਆ ਜਾਵੇਗਾ
8- ਬਿਨਾਂ ਕਿਸੇ ਰੁਕਾਵਟ ਦੇ ਹਾਜ਼ਰ ਹੋਣ ਅਤੇ ਇਮਤਿਹਾਨ ਦੇਣ ਲਈ ਆਪਣੀ ਕੀਮਤ 'ਤੇ ਇਕ ਅਨੁਕੂਲ ਉਪਕਰਣ, ਇੰਟਰਨੈਟ ਅਤੇ ਹੋਰ ਸਰੋਤਾਂ ਦਾ ਪ੍ਰਬੰਧ ਕਰਨਾ ਤਾਂ ਜੋ ਤੁਸੀਂ ਪ੍ਰੀਖਿਆ ਨੂੰ ਪੂਰਾ ਕਰ ਸਕੋ.
ਕੌਣ ਹਾਜ਼ਰ ਹੋ ਸਕਦਾ ਹੈ: ਹਰ ਕੋਈ
ਪ੍ਰੀਖਿਆ ਕੌਣ ਦੇ ਸਕਦਾ ਹੈ: ਸਿਰਫ 26 ਸਾਲ ਦੀ ਉਮਰ ਤੱਕ
ਕੌਣ ਪ੍ਰਾਪਤ ਕਰੇਗਾ ਸਰਟੀਫਿਕੇਟ ਅਤੇ/ਜਾਂ ਇਨਾਮ: ਸਿਰਫ 26 ਸਾਲ ਤੱਕ ਦੀ ਉਮਰ ਦੇ ਜੋ ਪ੍ਰੀਖਿਆ ਪੂਰੀ ਕਰਦੇ ਹਨ. ਜੇ ਤੁਹਾਡੀ ਪ੍ਰੀਖਿਆ ਇੰਟਰਨੈਟ ਦੇ ਮੁੱਦਿਆਂ ਜਾਂ ਅਸੰਗਤਤਾ ਦੇ ਕਾਰਨ ਖਤਮ ਹੋ ਜਾਂਦੀ ਹੈ ਤਾਂ ਜੀਜੀਐਸਐਸਸੀ ਕੈਨੇਡਾ ਦੁਬਾਰਾ ਪ੍ਰੀਖਿਆ ਨਹੀਂ ਦੇ ਸਕਦਾ.
ਪਹਿਲਾਂ ਹੀ ਧੰਨਵਾਦ
ਗੁਰਮਤ ਕਰੈਸ਼ ਕੋਰਸ ਟੀਮ
www.ggssc.ca
ਪੁਰਾਣੇ ਕਰੈਸ਼ ਕੋਰਸਾਂ ਦੇ ਵੱਡੇ ਜੇਤੂ ਸਿਰਫ ਆਨਰਰੀ ਮੇਨਸ਼ਨਾਂ ਪ੍ਰਾਪਤ ਕਰਨਗੇ !!
GGSSC Canada and Sevadars reserve the right to change rules in accordance with policies at any time without notice. Dhanwaad
Organizer of INDIA: Gurmat Crash Course >Guru Nanak Saahibji -Life Sketch
www.ggssc.ca
EXPERIENCE A ROLLER COASTER THROUGH SIKH HISTORY IN 9 HOURS OVER 3 DAYS
WARNING!! Life Changing Experience
If you ever wondered how it would be like going back in time and having a seamless view of the teachings of Sikh gurus and their sacrifices, but you also dont have time for it..you are at the right place. GGSSC Canada has designed the perfect experience. Imagine if you can attend one event on Friday, Saturday & Sunday only evenings for 3 hours and experience the life journey of Guru Nanakji, or Guru Gobind Singhji or Ten Sikh Gurus, or the Great Gursikhs, or The Gursikhs who laid down their lives between 1500s and 1900s by making Selfless Sacrifices,or the Sikh Bhagats, or the Beginning, Rise and Fall of Maharaja Ranjit Singh's Khalsa Raj. We have over 8 different modules we conduct these events on and they are called GURMAT CRASH COURSES. They are precise, non boring, and succinct to reflect history as a practical demonstration of the teachings as enshrined in Dhan Guru Granth Sahibji. To get a FREE GURMAT CRASH COURSE in your Sikh Gurdwara please call or WhatsApp Binder Kaur @ 15195017793