Event Information
Refund Policy
Refunds up to 7 days before event
Description
What is this?
The Powell Group, together with MeetToMatch, is bringing the world's best publishers, investors, marketing companies, and developers to your doorstep. You just need your laptop and a headset to get the process started!
Indie developers need to network with publishers, investors, and influencers. We know this better than anyone. The problem is that the traditional conferences and trade shows are prohibitively expensive. By the time you add up conference tickets, flights, hotels, meals, and Uber, a single person is looking at thousands of dollars for a two day show.
We're presenting another option. Use MeetToMatch, the same industry leading matchmaking service you use at almost 20 international b2b game events, to find the the best game companies in the industry. See what they are looking for and when they are available. Book your meeting, and when it's time to meet, click a button and go straight to a video call.
Meeting the best partners for your game doesn't get any easier than this.
What Do I Get?


Access to publishers, developers, PR/marketing companies, service providers, and influencers
Easy to use matchmaking system to find and schedule the best meetings for you
A complete directory of attendees to use after the event
An affordable event to grow your company and meet new people
How Does It Work?
Step 1 - Register online. Early registration increases your chance to find potential partners.
Step 2 - Create your online profile. Present your company projects and services to show the world why you are the best! A personal matchmaker will be assigned to you.
Step 3 - Organize your agenda. Use the online meeting system to plan your meetings. Invite possible partners or accept received invitations to meet on-site. Block time-slots for lunch or other breaks during the day.
Step 4 - Personalized match-making. After you reached out to interesting companies, your matchmaker might help you getting that declined meeting request accepted, or suggest additional potential partners.
Step 5 - The meetings. Use the 30-minute meetings online to exchange ideas or pitch your product.
Step 6 - Fill in the gaps. Last minute meetings can be arranged by the matchmaker. Always be on the lookout for last minute additions to the event as well.
Step 7 - Click the link. When it's time for your meeting you simply click a link on the agenda and your video conference will start.
What If I Don't Know Anyone To Meet?
That's what we are doing this. Once you're signed up and the meeting system goes live you'll be able to see all the other participants, what they have to offer, and what they are looking for. You will be able to reach out to any of them and request a meeting. They can do the same for you.
Who Will Be There?
We are expecting over 100 companies from mobile, PC, and console gaming. This includes publishers and developers as well as some of the top marketing and PR firms in the industry. Here are some of the confirmed attendees as of today.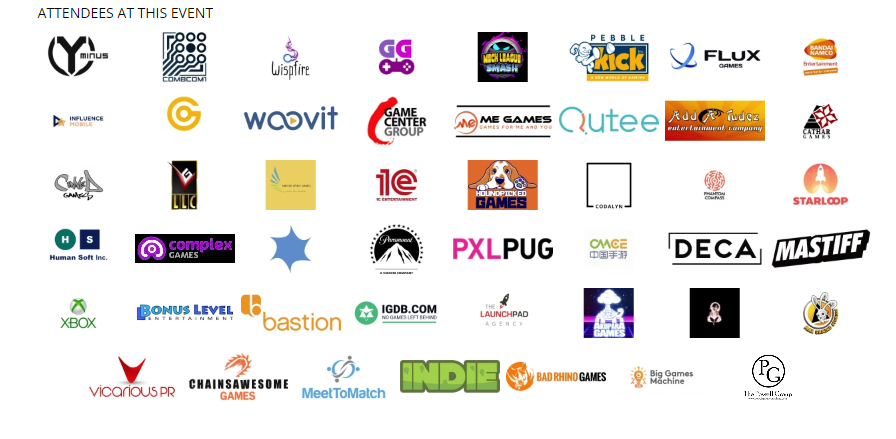 Date and Time
Refund Policy
Refunds up to 7 days before event