Celebrate the stories that connect us at The Word On The Street Toronto's 2021 virtual festival of storytelling, ideas and imagination.
About this event
The Word On The Street presents Indigenize, Decolonize! Indigenous Writers Roundtable
Every day, Indigenous people across Turtle Island are building a more hopeful future, through community initiatives, storytelling, and more. Join us as we hold space to grieve the losses of this year, honour the struggles and successes of those dedicated to Indigenous resistance, and discuss the role that writing has in decolonizing our world: how do books and storytelling contribute to healing? How do we celebrate and protect Indigenous storytellers? How have current events changed the way we write?
This panel will stream live Sunday, September 26 at 5:30pm ET & concludes the 2021 WOTS Festival celebrations.
Panelists
Bevann Fox is a member of Pasqua Nation, originally from Piapot Nation, Treaty 4 Territory. In 2012 she received her Bachelor of Arts in Arts and Culture and in 2018 her Master in Business Administration, Leadership from the University of Regina. In 2014 she was honoured with the YWCA Women of Distinction Award—Arts, Culture and Heritage. She received the Indigenous Voice Award 2021- Creative Non-Fiction Life Writing for Genocidal Love. Genocidal Love was also honoured with a Saskatchewan Book Award 2021.
David A. Robertson is the author of When We Were Alone (2017 Governor General's Literary Award), The Barren Grounds (2020 Governor General's Literary Award finalist), and Back Water, winner of the Alexander Kennedy Isbister Award for Non-Fiction and the Carol Shields Winnipeg Book Award. He is a member of Norway House Cree Nation and currently lives in Winnipeg.
jaye simpson is an Oji-Cree Saulteaux Indigiqueer writer and activist from the Sapotaweyak Cree Nation, with Scottish and French settler ancestry. Their poems and essays are published in Poetry Is Dead, THIS Magazine, PRISM international, SAD Magazine, GUTS Magazine, Room, Today's Parent, Grain, and SubTerrain. simpson is also published in Hustling Verse: An Anthology of Sex Workers' Poetry, as well as Love After the End: An Anthology of Two-Spirit and Indigiqueer Speculative Fiction. simpson is currently resisting, ruminating and residing on xwməθkwəyˇəm (Musqueam), səlˇilwətaɁɬ (Tsleil-waututh), and skwxwú7mesh (Squamish) First Nations territories, colonially known as Vancouver. it was never going to be okay is their first book.
Darrel J. McLeod is Nehiyaw (Cree) from Treaty 8 territory. Darrel's first memoir, Mamaskatch: A Cree Coming of Age (Douglas & McIntyre), won the 2018 Governor General's Literary Award and was a finalist for the RBC Charles Taylor Prize. The sequel, Peyakow: Reclaiming Cree Dignity, was released in March 2021. Darrel holds degrees in French literature and education from UBC. Darrel has been a teacher, School Principal in Yekooche First Nation, Director of a provincial curriculum center, Executive Director of Education and International Affairs at the Assembly of First Nations, and Chief Negotiator for the Government of Canada. Darrel is also a jazz singer. He lives in Sooke, BC and spends winters in Puerto Vallarta, Mexico.
Shop local! Purchase books by WOTS2021 featured authors through local independent bookstores on our official bookseller page.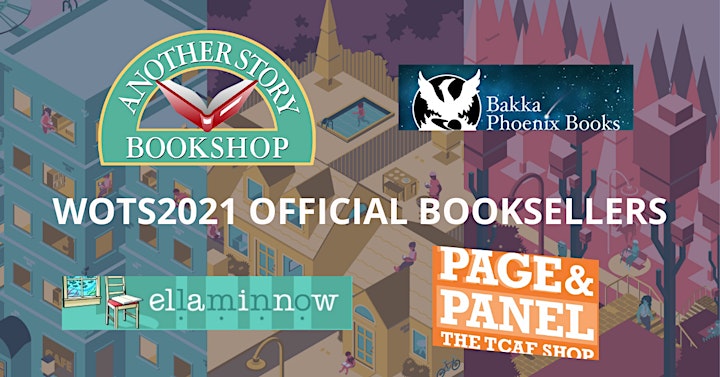 About the Festival
For 32 years, The Word On The Street has been a gathering place for authors, publishers, booksellers, and readers of all ages to celebrate the stories that connect us.
We're staying virtual for WOTS2021, so you can tune in from wherever you are to enjoy incredible programming with 100+ authors presented over 10 days from September 16th to 26th, featuring bestselling Canadian and Indigenous authors like Eden Robinson, Andre Alexis, Zoe Whittall, and Richard Van Camp.
Get insight into the year's top issues through a literary lens, with readings and panels on topics like climate change, decolonization, and how we care for one another. Poetry, memoir, mystery & more, WOTS2021 has the books you've been looking for.
Visit the 2021 Festival Homepage!
You can also subscribe to our YouTube channel for a preview of what to expect during the WOTS2021 festival, and watch (or re-watch) our year-round City Imagines and Book Talk series.
Become a Patron of The Word On The Street
We are very grateful to our vibrant and generous community for your continued support throughout this challenging period for live events. If you'd like to contribute financially, you can add a donation to your registration or visit our CanadaHelps fundraising page to learn more about how you can help to sustain Toronto's favourite book festival.
We also appreciate your support in the form of kind messages for our small-but-mighty team and helping us spread the word on social media!
On COVID-19 & In-Person Events
For the second time ever, WOTS2021 will be held virtually with programming hosted on our website and streamed live on YouTube. But that's not all! We're also collaborating with local authors and bookstore partners to offer a limited number of socially-distanced book signings. Check out the Bookstore Signing Schedule for more details on who might be coming to your neighbourhood.
If you're most familiar with our offline offerings: Hi! We miss you, and hope you are well!
Our team is doing the best we can to ensure the health and safety of our community, especially for vulnerable and younger readers who don't yet have access to a vaccine.
Staying virtual has given our team the opportunity to re-think how we can best honour our mandate as champions of literacy, and we can't wait to share our exciting news about the future of WOTS with you this September!

The Word On The Street is an annual celebration of storytelling, ideas and imagination, hosting Canada's largest FREE book and magazine festival annually since 1990 and promoting great books by Canadian and Indigenous authors year-round.
Organizer of Indigenize, Decolonize! Indigenous Writers' Roundtable