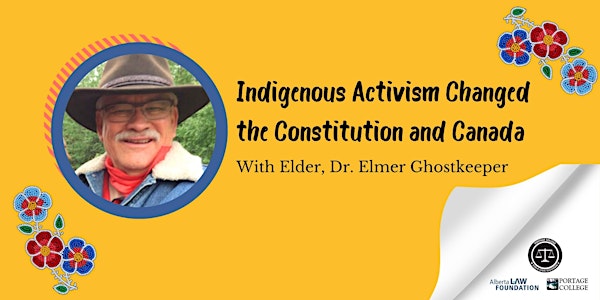 Indigenous Activism Changed the Constitution and Canada
We are honoured to have Dr. Elmer Ghostkeeper join us to speak about this important history.
By Portage College Public Legal Education
Date and time
Mon, Jun 5, 2023 12:00 PM - 1:00 PM PDT
About this event
During the late 1970s, Prime Minister Pierre Trudeau announced his government was going to patriate the Canadian Constitution, which was then still an act of the British Parliament. The Canadian government did not initially plan to include Aboriginal rights so extensively within the constitution when the Act was being redrafted in the early 1980s. In response to the proposed patriation, many Indigenous organizations and activists joined in demonstrations and campaigns, both at home and all the way to the United Nations and the British Parliament, to have their title and rights explicitly recognized in the Constitution. Eventually, Indigenous leaders were invited to participate in the meetings, but only those relating to Indigenous inclusion in the Constitution and were successful in having their existing rights enshrined and protected through Section 35 which was added to the constitution in time to be formally patriated in 1982.
Section 35 of the Constitution Act states:
35. (1) The existing aboriginal and treaty rights of the aboriginal peoples of Canada are hereby recognized and affirmed.
(2) In this Act, "aboriginal peoples of Canada" includes the Indian, Inuit and Métis peoples of Canada.
(3) For greater certainty, in subsection (1) "treaty rights" includes rights that now exist by way of land claims agreements or may be so acquired.
(4) Notwithstanding any other provision of this Act, the aboriginal and treaty rights referred to in subsection (1) are guaranteed equally to male and female persons.
We are honoured to have Dr. Elmer Ghostkeeper join us to speak about this important time in Canadian history. Elmer was born in Paddle Prairie Métis Settlement in Alberta. He speaks fluent Cree and Michif. Elmer is a father, grandfather, teacher, philosopher community leader, business person, knowledge keeper, scholar, mentor and author. Elmer is a genial, intelligent, unassuming man who values Indigenous Ways of Knowing and Being and is the holder of two Anthropology degrees from the University of Alberta. He received an honorary Doctor of Laws degree from the university in November 2022.
Elmer has worked tirelessly over 50 years to promote the rights of Métis peoples in Canada and to build relationships across Indigenous and non-Indigenous worldviews. As president of the Federation of Alberta Metis Settlement Associations (the only legally established Metis land base in Canada), Elmer had worked side-by-side with Alberta Premier Peter Lougheed in the 1981 negotiations between Canada and the United Kingdom to repatriate the Canadian Constitution, now known as the Constitution Act, 1982. Sections 35, 91 and 92 of the Constitution Act defined Aboriginal, federal and provincial power.
It was Elmer who suggested the word 'existing' be used in Section 35(1): "The existing aboriginal and treaty rights of the aboriginal people in Canada are hereby recognized and affirmed."
This session will be held online via Zoom. Please check the email you register with for log-in details which will be emailed to registrants the day before the session.
Please visit PLEonline.ca or our Eventbrite event listings page for information on other upcoming free public legal education events.
About the organizer
Educating Albertans on the law and legal system since 2001!​  since 2001!​