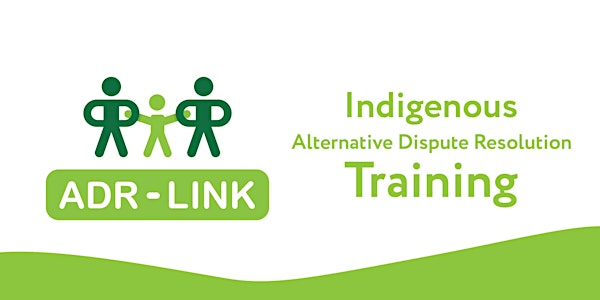 Indigenous Alternative Dispute Resolution Training
Training for practitioners looking to start practicing Indigenous Alternative Dispute Resolution
About this event
ADR-Link provides administration and coordination for families wishing to access Alternative Dispute Resolution who are involved in – or at risk of being involved in family court. Our purpose is to link qualified practitioners with families and their referring organizations in meaningful ways to move towards the best outcomes for children, families and the community. Indigenous (or Original) Alternative Dispute Resolution is one of four streams of service available through ADR-Link.
The legal landscape in Canada was built by and for settler Canadians, a system, that, by its very nature was meant to exclude the lifeways and customary practices of our original peoples. Incorporation of both Indigenous and Western approaches from a culturally competent, cross-cultural approach, delivered by Indigenous experts is an essential tool in resolving family conflicts in ways that will honour the needs of each family and community, and in the case of child well-being, keeping children as close as possible to their families and sources of language, culture, and other ways of being, doing, and knowing. Indigenous and Western legal principles are not mutually exclusive but can be used to complement each other. In this 3-day training we have a few simple goals:
To build a foundation of meaningful cultural humility as related to Indigenous histories, cultures, systemic oppression, and how that's operationalized in the legal system;
To familiarize ADR Referral Sources and ODR/IADR Practitioners Development with existing Indigenous dispute resolution best practices through an examination of case studies;
To illuminate international, federal, and provincial policies that inform the framework of Indigenous Alternative Dispute Resolution
To ideate and embody conflict transformation practices together by providing a safe space for testing ideas, challenging concepts, and asking questions.
This training is online via Zoom and spans these 3 days*:
Friday Feb 10 at 9:30AM to 3:30PM
Thurs Feb 16 at 9:30AM to 3:30PM
Friday Feb 17 at 9:30AM to 3:30PM
*One ticket gets you access to all 3 sessions
Ideally, those that attend will be interested in practicing ODR within First Nations Communities and share a First Nations background, however, all are welcome to register for the training. The maximum number of seats available is 20 and priority will be given to those from First Nations Communities within our service area.
This training is provided through the support of MCCSS funding ADR-Link and London Family Court Clinic and is free to those attending.
Facilitators
Jim Doxtdator Acc.FM, CP Med, OAFM Jim identifies as Wolf Clan, Cayuga Nation Haudenosaunee Six Nations. His experiences are influenced by growing up in Caledonia and Six Nations, as well as knowledge in working with indigenous people in child protection, family mediation and restorative practices.
Restorative Practice Facilitator/Trainer in Brantford Metropolitan area which includes Six Nations and Mississaugas of the Credit First Nation • Intimate Partner Violence (IPV), criminal diversion facilitator • Accredited Family Mediator, Ontario Association of Family Mediators (OAFM) • Accredited Child Protection Mediator (CP Med) • Reiki Practitioner (Energy Treatments) • Trained approximately 3,000 people in Restorative Practices • Co-Facilitated approximately 100 formal circles
Stephanie Morningstar Stephanie most recently acted as consultant, coordinator, and facilitator for the Six Nations Justice Program's development of the Ontario Ministry-funded Indigenous Dispute Resolution train-the-trainer manual in partnership with several Indigenous Child Welfare professionals, elders, and community members from around Ontario. She both developed the framework and delivered two sets of training to Indigenous CAS workers. Stephanie has over 10 years of conflict resolution and transformation experience.