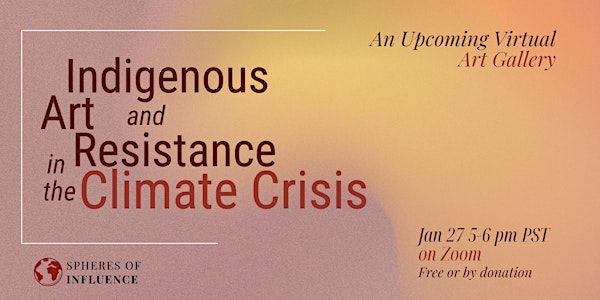 Indigenous Art and Resistance in the Climate Crisis
Virtual multi-media art gallery featuring Indigenous artists whose work focuses on themes of climate change and activism.
About this event
Please join us for our upcoming virtual art show: Indigenous Art and Resistance in the Climate Crisis.
ZOOM LINK: https://us06web.zoom.us/j/83273957726?pwd=YUFsNnZ4cEk0NVAzOGRSNktWbFcxZz09
However, we do encourage you to register via Eventbrite and donate if you are able to do so.
In this event, we will be featuring the works of some incredible Indigenous artists from across the globe: Mariyeh Mushtaq, Lee Gavin, Elizabeth Swanson Andi, and Jearica Fountain, whose biographies we have included below.
Through illustrations, photography, and comics, the artists convey powerful statements about climate change, resistance, and sovereignty. The event will conclude with a discussion session and audience Q&A.
MEET THE ARTISTS!
MARIYEH MUSHTAQ (she/her)
Mariyeh Mushtaq is an independent researcher and artist based in Kashmir. Her digital art project, Kashmir Pop Art (KPA) was a recipient of the 2021 Creative Activism Award by Cultures of Resistance Network. Making use of contemporary surrealism through mixed-media illustrations, digital collage, and photography- Mariyeh's artistic inquiry focuses primarily on history, life, gender, militarization, precarity and women's movements in Kashmir. She is mainly interested in the decolonial and feminist intersection of art, academia, and activism. Through her art practice at ZW, she works on the visual dissemination of feminist knowledge/praxis, making use of design as a tool for garnering civic action. Mariyeh is a graduate of the University of Delhi and completed her Masters last year in Gender, Sexuality & Culture from Birkbeck, University of London.
LEE GAVIN (he/him)
Lee Tiikalixtnikt Gavin is a Cayuse and Umatilla artist out of Portland, Oregon. Primarily creating art that speaks to subculture and activism while including ancestral culture is the goal behind this art style that continues to evolve and calls for representation in subculture and the world around us.
ELIZABETH SWANSON ANDI
Elizabeth Swanson Andi is a Napu Kichwa woman from the Santu Urku community on the Napo River in the Ecuadorian Amazon. She is a multimedia artist, environmental scientist, and storyteller inspired by the land and people who shaped her.
In the Kichwa language there are three words that center Elizabeth's work— "iyarina" meaning to think by looking at the land and remembering what happened there. "llakichina" meaning to feel empathy, sorrow, and love all at once. Finally, "kuyana", the act of reciprocity and giving back.
Throughout generations, much has changed in the Amazon Rainforest. Today her community faces language loss, forest degradation, food and water insecurity. The lives of all those who reside in the Amazon are at risk, and that's why she is dedicated to protecting her home and amplifying the voices of the Amazon. For the land, for cultural survival, for a future filled with indigenous joy—Allpamanda, kawsaymanda hatarishun. Runa yachayra, ruku kawsayra ñaupakma apashun.
JEARICA FOUNTAIN (she/her)
Jearica is an Indigenous land protector and climate justice warrior. She is an Indigenous activist for climate action and human rights. Her deep connection to the lands of Turtle Island, her ancestors, and her Indigenous way of life guides her in everything she does including her art. Continuing in her ancestors' footsteps to stand up for the rights of the land, she hopes to utilize her art as a tool of advocacy and education. She also hopes her art can be used to reflect on the lives of Indigenous peoples in the past as well as the oftentimes invisible modern-day lives of Indigenous peoples of the Americas. She hopes to use her art to mark a new era of Indigenous representation, in which Native peoples are in the driver's seat of their own narratives. For instance, she is starting a movement of Indigenizing cartoons in an effort to shed light on how to respectfully have Indigenous portrayals in cartoons. "I use to say I speak for the trees, the water, and the land but realized they are always speaking, teaching, and talking, I am merely a translator, translating for the modern world for what the environment is saying."