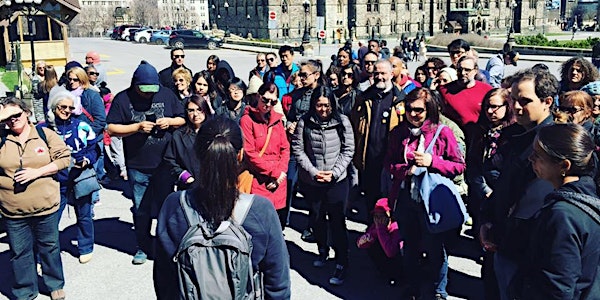 INDIGENOUS ART WALKING TOUR
When and where
Location
Galerie SAW Gallery 2 Daly Avenue Ottawa, ON Canada
Description
INDIGENOUS ART WALKING TOUR: Central Art Garage, Galerie SAW Gallery, Karsh-Masson Gallery
WHERE: Beginning at Central Art Garage (66B Lebreton St North - the rear garage), ending at Galerie SAW Gallery's satellite space (2 Daly Ave)
WHEN: Sunday, July 23, 2017 at 1PM -4PM
Jaime Koebel, curator of Wapikwanew and founder of Indigenous Walks, will lead a guided walking tour through downtown Ottawa, sharing an Indigenous perspective of various social, political, cultural, and artistic spaces. The Walk includes a tour of three Indigenous art exhibitions where a number of artists will be present to speak about their work. The tour will end at Galerie SAW Gallery's satellite space, where tea and bannock will be served and participants will have the opportunity to chat more with various artists from the shows and curatorial staff. This Art Walking Tour provides a dynamic and unique way to experience all three of these important exhibitions and enables participants to share in open, respectful dialogue on the topics these shows collectively speak to during this important time in Ottawa.
Participants are expected to walk the entire tour; please wear comfortable shoes and be prepared to walk for at least 3 hours.
This tour will be conducted in English.
#callresponse
- Arts Court June 18 - July 30
#callresponse
features works by Indigenous female artists from across Canada, including Christi Belcourt, Maria Hupfield, Laakkuluk Williamson-Bathory, Tania Willard, and Ursula Johnston. This collaborative show seeks to incite dialogue and catalyze action between individuals, communities, territories and institutions. Centred on community engagement, this exhibition positions Indigenous women as leaders within their own communities and within current discussions of reconciliation, resurgence, resistance, and refusal. Curated by Tarah Hogue of Grunt Gallery in Vancouver, this collaborative exhibition has travelled to various spaces across Canada and will be apart of the National Arts Centre's Canada Scene here in Ottawa. http://www.callresponse.ca
It's Complicated - Central Art Garage June 17 - July 31
It's Complicated is a response to Canada's sesquicentennial celebrations in 2017 by the OO7 (Ottawa Ontario 7) Collective and invited Special Agent artists. As Indigenous peoples of this land, from coast to coast to coast, 150 years represents a very minuscule passage of time, especially in terms of the longstanding presence and occupation of homeland territories. Yet this seemingly fleeting moment in time is monumental in its impact on Indigenous communities, culture, language, identity, rights, water and land. This exhibition by 10 Indigenous artists working in diverse artistic practices offer an alternative perspective to the widely propagated Canada 150 celebrations by revealing timely and poignant aspects of this convoluted historical and contemporary relationship between Canada and Indigenous peoples. If there is any room for celebration in 2017 from an Indigenous perspective, it is a celebration of survivance, tenacity and perseverance. It's a complicated celebration. http://centralartgarage.com/current/#/oo7-its-complicated/
Wapikwanew: Blossom - Karsh-Masson Gallery June 22 - July 30
Wâpikwanew means blossom in Nehiyawewin (the Cree language), and blossoms are a form of natural beauty that emerge in the wake of a winter's sleep. From floral beadwork to ink on eggs, from paint on canvas to birch bark bitings, floral images are a source of symbolism that support self-identification, cultural identity, memory, traditional knowledge and meditation. Two main ideas are expressed in this exhibition: First and foremost, it highlights how floral art serves as a source of inspiration and connection in so many cultures. Secondly, it shares how flowers provided a kind of balance that, "took my mind away from the less beautiful things around me. […]" (Jaime Koebel, curator). This exhibition is meant to be enjoyed, to bring happiness and encourage viewers to think about how flowers are represented in their own lives. http://ottawa.ca/en/residents/arts-heritage-and-culture/galleries-and-exhibition-spaces/karsh-masson-gallery#upcoming-exhibitions
For more information, please contact Leah Iselmoe at leah@galeriesawgallery.com, or 613-236-6181.