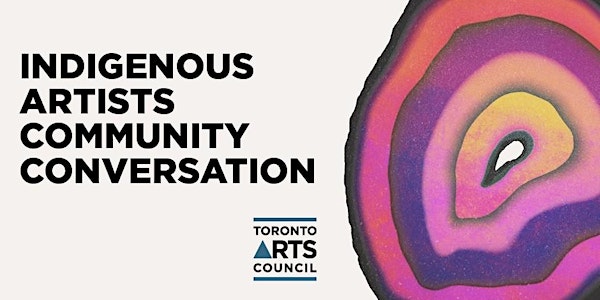 Indigenous Artists Community Conversation Circle
Indigenous Artists Community Conversation Circle
About this event
ABOUT THE EVENT
TAC welcomes Indigenous artists to an informal conversation about how Indigenous arts communities are responding to the current Toronto Art(s) landscape. This will be a community exchange with speakers and attendees invited to share their stories, knowledge and resources, and network in community. We hope to create space for artists to explore how others are being innovative in their practice and what unique opportunities and challenges exist amidst the ever changing sector. We'll also be sharing funding opportunities available for Indigenous artists through TAC's Indigenous Arts Program led by Program Manager, Catherine Tammaro.
ABOUT OUR GUEST SPEAKERS
Amanda Bernard
Amanda Bernard is a member of the Madawaska Maliseet First Nation and also the Founder of Shawish the new virtual Indigenous marketplace. On Shawish, Indigenous artists can create their own shops and upload their owns products for free. All vendors on Shawish get verified so everyone can feel comfortable knowing they are purchasing items directly from an Indigenous person. It has been told through the passing of stories, that Amanda's original last name was Shawish. When settlers made Amanda's ancestors change their name, they decided on Bernard because that was the name of their favourite priest within their community at the time. During the day, Amanda is a Program Manager at a Foundation where she has the opportunity to work with and support Indigenous youth. Amanda currently resides in Tkaronto, ON but was born and raised in Ottawa, ON.
Jasmine Swimmer
Jasmine's passion for Social Change and Advocacy work has brought her into rooms like Plan Canada International, UN Youth Assembly Summit and Canadian Roots Exchange as a Afro-Indigenous Representative. These organizations have supported her growth and knowledge as a young individual growing to understand the world of business, politics and social issues. Jasmine has acquired over 9 years of public speaking, workshop facilitation, curriculum development, administrative and executive leadership experience. She has also acquired 4 years of Graphic Design, Illustration & UX/UI Development experience as well. She strives to better herself, her peers and colleagues, through her skills and teamwork. Jasmine is currently a freelance Visual Artist and Entrepreneur. I pride myself on paying it forward and giving back to my communities in workshops, knowledge sharing and mentorship.
For more information about this event or the Indigenous Arts program, please contact Catherin Tammaro, Indigenous Arts Program Manager, catherine@torontoartscouncil.org