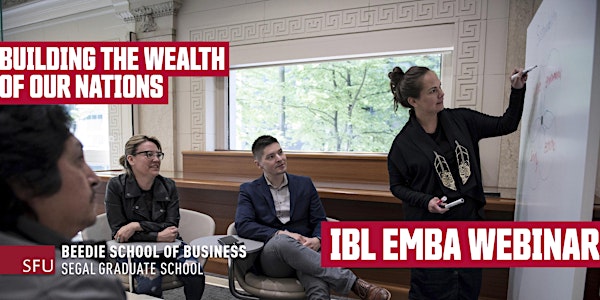 Indigenous Business Leadership Executive MBA Webinar
Learn more about the Indigenous Business Leadership Executive MBA (IBL EMBA) program at Simon Fraser University's Beedie School of Business.
About this event
Overview
In this one hour online information session where you will:
Meet IBL EMBA graduates and hear their stories of experience
Learn why you should consider the IBL EMBA program
Discover how your skills, gifts, and talents can help build the wealth of our nations
Learn how to building a successful application
Have the chance to ask any questions you may have
Details:
Date: Thursday, December 8, 2022 from 12:00 - 1:00 pm PST
Location: Zoom details will be sent out 24 hours prior to the event.
Find out your local time for the event here.
Visit our website to learn more about our IBL EMBA program here.
Registration for this event is free, but space is limited.
Reserve your spot today!  
Our full suite of graduate programs include our:
Indigenous Business Leadership Executive MBA - a program for community leaders who are committed to economic and business development, entrepreneurship, and/or economic reconciliation who have demonstrated positive, reciprocal and sustainable working relationships with Indigenous communities.
Executive MBA - a program for senior level managers who seek to develop the business acumen and enhanced capacity for the critical, innovative, and strategic thinking required for success at the senior management level.
Graduate Diploma in Business Administration - an online program that combines theory and application to provide core business skills to working professionals. This program provides a pathway into our Full-Time MBA, Part-Time MBA, or Management of Technology MBA.
Full-Time MBA - a program for early to mid-career professionals who are ready to push themselves to their highest potential and move their career to the next level in an internationally diverse and collaborative MBA classroom.
Part-Time MBA - a program for working professionals. Instead of taking a career break, you'll attend classes in the evening and apply what you learn the next day. It's a transformative experience that starts pushing your career forward from day one.
Management of Technology MBA - a program for mid-career professionals and managers who are currently working in science and technology fields and who understand how technology and business intersect and interact.
Master of Science in Finance - a program for early to mid-career individuals with an aptitude for quantitative finance. This program equips students with the tools needed to manage risk and investments in a rapidly changing world.