Panel discussion on cultural appropriation vs. appreciation with five incredible Indigenous women entrepreneurs
About this event
Join us for a 90-minute virtual event discussing the difference between cultural appropriation and appreciation.
Have you ever wondered if your actions, or the actions of others, are appreciating or appropriating Indigenous culture? Listen as 5 Indigenous business leaders explain the difference between the two, provide context behind the harm appropriation can cause, and learn about ways you can "call in" those who may be appropriating.
This event is open to all genders, cultures, and backgrounds!
What to expect:
During this interactive session, we will hear perspectives about cultural appropriation from our incredible panel of Indigenous community members and business leaders.
Real life examples will be used to explore and have the audience participate using an anonymous poll.
We will also receive knowledge how to build a path forward.
We hope this is a welcoming and learning experience for all who attend!
Don't miss out on this awesome learning opportunity!
#Unlearn #Relearn #Grow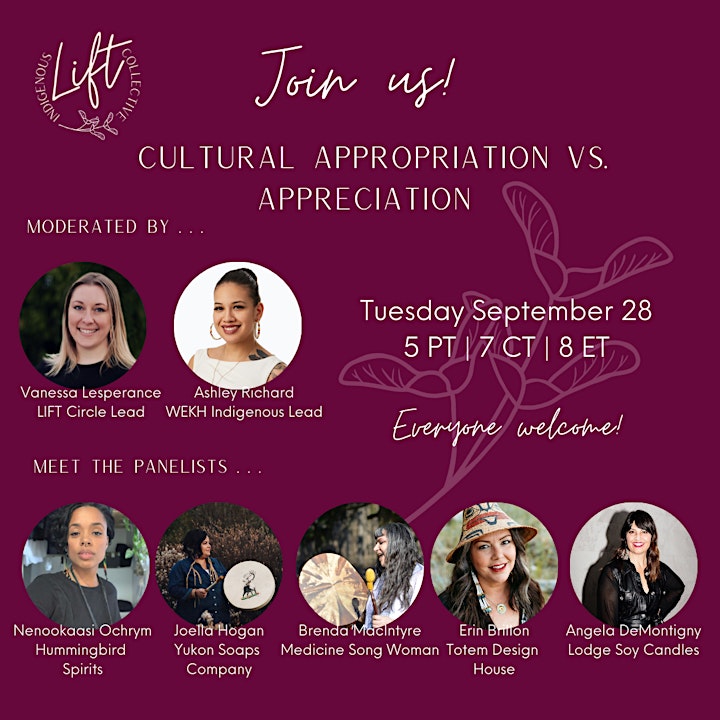 Meet your panelists!
Nenookaasi is an Afro-Anishinaabe 2Spirit Queer Woman, mother, activist, song composer and singer residing in treaty 13 Tkaronto. Nenookaasi is the Founder of Hummingbird Spirits, Toronto's leading supplier of Traditional medicines. "Our goal is to provide safe, healthy, and affordable medicine to folks predominantly living in Urban Cities through harm reduction and cultural knowledge exchanges. It is important to be mindful that our communities are slowly finding their way back "home" through these medicines.``
Check out Nenookaasi's Facebook or Instagram
Joella Hogan comes from a long line of strong, vibrant, Indigenous women. Joella is of the Crow Clan and a member of the First Nations of Nacho Nyak Dun. She lives in her traditional territory in the community of Mayo, and is striving to learn her grandmothers' language of Northern Tutchone. She has been able to reconnect with her community, elders, land, and language through her small business, the Yukon Soaps Company.
Check out Joella's website or Instagram
Brenda MacIntyre aka Medicine Song Woman, a London Ontario-based Juno Award-winning singer, has shared her evocative melodic voice and fusion of reggae, rap and indigenous hand drumming on stages across Turtle Island. After losing her parents as a teenager and her son to murder in 2016, Brenda has developed a 13 Moon resilience program based on her healing music to help women rewire their brain, body and mind with love, hope, possibility and purpose especially during challenging times.
Check out Brenda's website or Instagram
Kalga Jaad Erin Brillon (Haida and Cree) grew up in the vibrant world of Northwest Coast native art; she has always held a deep sense of pride and reverence for her culture. Since 2015, Erin has focused all her energy into growing her clothing, home decor and jewellery business, Totem Design House - the culmination of a family effort, collaborating with her brother, artist/jeweller/carver Jesse Brillon's Haida designs, and her daughter Marlo screen-printing.
Check out Erin's website or Instagram
Angela DeMontigny is an award-winning, Indigenous Canadian fashion designer and artist of Cree-Métis heritage. She is known internationally for her unique use of leather and suede in her clothing and handbag collections, incorporating cultural motifs from her background in a sexy and glamorous style she describes as "indigenous luxury." Angela has now stepped into her 'Indigenous Wellness' product line of LODGE Soy candles to bring peace, calm and ceremony into people's lives as a natural way to combat anxiety, stress and fear during these times.
Check out Angela's website or Instagram
Meet your Moderators!
Vanessa Lesperance is a mixed heritage woman born in Treaty 1 territory (Winnipeg) and deeply proud of her Métis roots. She is on a mission to invoke heart-centered transformation and decolonize business through workplace spirituality. Vanessa created The Mindful Managers based on her research on workplace spirituality to help guide people to lead in a good way. In addition to her work with the Indigenous LIFT Collective's LIFT Circle, she also mentors Indigenous youth across B.C. in creating their own pop-up businesses in 30 days.
Check out LIFT's website or Instagram
Ashley Richard is a proud Ojibway and Métis woman residing in Treaty 1 Territory. She is currently the National Indigenous Lead for the Women Entrepreneurship Knowledge Hub (WEKH). She is finishing her Masters in Innovation and Entrepreneurship at the Smith School of Business at Queen's University in October 2021.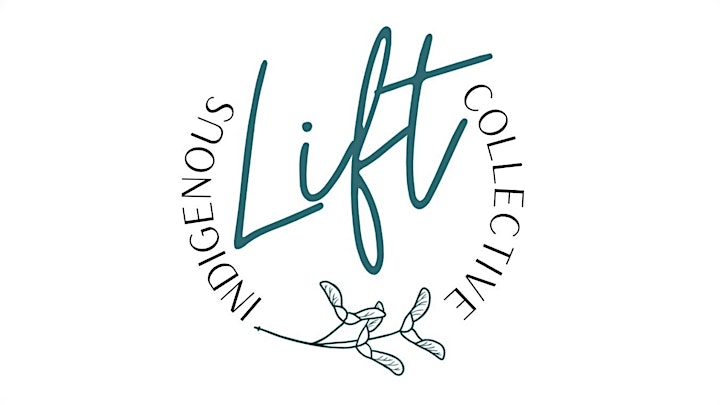 The Indigenous LIFT Collective acknowledges how grateful we are to operate on the traditional, ancestral and unceded territory of the xʷməθkʷəy̓əm (Musqueam) people.
Organizer of Indigenous Culture: Appreciation vs. Appropriation