Description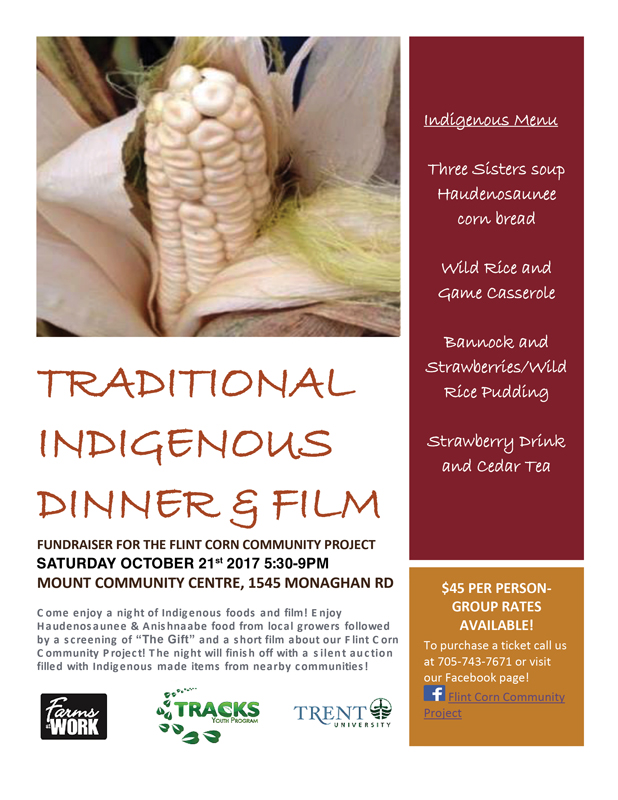 * NOTE NEW DATE - OCTOBER 21ST *
Join us for an evening of Haudenosaunee and Anishnaabe foods from local Indigenous growers. Dinner will be followed by a 45 minute film called "The Gift", and also a short film about the Flint Corn Community Project in Nogojiwanong over the last three years. There will also be a silent auction of Indigenous made items from nearby Haudenosaunee and Anishnaabe communities.
This fundraiser will benefit the Flint Corn Community Project directly. The project aims to preserve and revitalize Haudenosaunee flint corn as part of traditional indigenous food and culture in Peterborough and surrounding areas. It engages both indigenous and non-indigenous community members in the growing, maintaining, harvesting and preparation of traditional indigenous flint corn, squash and beans.
If you cannot make it out to the dinner, but would like to make a tax-deductible donation to the Flint Corn Community Project you can do so at this link!
https://tidescanadagifts.secure.force.com/donate/?id=a30610000018y3Y