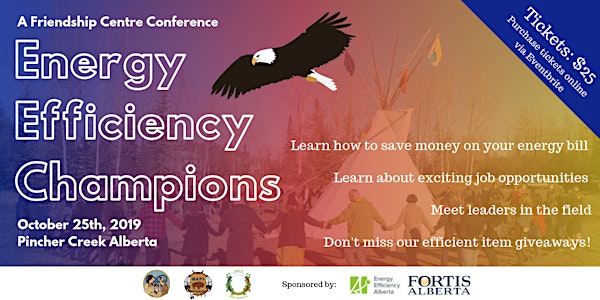 Indigenous Energy Efficiency Champions: Pincher Creek
When and where
Location
Napi Friendship Association 622 Charlotte Street Pincher Creek, Alberta T0K1W0 Canada
Description
The Alberta Native Friendship Centres Association (ANFCA) presents their Energy Efficiency Champions conferences in each of the four directions. Want to learn more about how to use less energy, save money and help to protect Mother Earth? Then this is the event for you! If you come to these events, you can expect to meet members from Friendship Centres in your region, environmental experts, Indigenous energy leaders, government and more.
Who Can Attend?
These events are open to everyone from youth to Elders! While this is an urban Indigenous event, non-Indigenous attendees are most welcome as are residents from non-urban areas. The Energy Efficiency Champions events follow the Friendship Centre value to create spaces that are culturally connected and welcoming to all.
What can I expect from these conferences?
One Energy Efficiency Champions Conference will take place in each of the four sacred directions of the medicine wheel: North, South, East and West. Each event has a similar schedule but different presenters that are specific to that region! The preliminary schedule for the Pincher Creek conference is included below:
- 8:00 am Doors open
- 9:00 am Welcome and opening prayer
- 9:30 am Keynote address
- 9:45 am Expert panel: climate change in your community
- 10:45 am Break: snacks and coffee provided by Napi Friendship Association
- 11:00 am HOW TO use efficient technology: receive a take home efficiency toolkit
- 12:00 pm Lunch: provided by Napi Friendship Association with local musical guest
- 1:00 pm Expert panel: Renewable energy
- 2:00 pm Job opportunities
- 2:45 pm Break: snacks and coffee provided by Napi Friendship Association
- 3:00 pm Roundtable discussion: community solutions
- 4:00 pm Keynote address: TBA
- 4:30 pm Closing prayer
Conference Cost
Conference tickets are $25 each + fees ($27.54 total). Tickets include conference attendance, food and an energy efficiency toolkit.
WHAT IS IN YOUR TOOLKIT?
- Green Initiative notebook and pen
- Green Initiative tote bag
- Green Initiative bookmark made from seeded paper – plant it in soil and wildflowers will grow!
- Energy efficient items to take home and install
Champion Sponsorship
Are you traveling from out of town and want to attend an Energy Efficiency Champions conference? Thanks to funding from Energy Efficiency Alberta, the ANFCA will sponsor two individuals from each out-of-town Friendship Centre community to attend a conference. Sponsorship covers travel, food, accommodation (1 to 2 nights stay) and the conference fee. Sponsorship is available to youth and adults; however individuals under 18 years must be accompanied by an adult chaperone (over 18 years). Please be advised that sponsorship does not cover costs for chaperones.
Give back to your community
After the events completion, each sponsored champion is required to provide a teaching to a minimum of 10 people in their community on what they learned at the conference. Ideas include:
- Showing energy efficiency toolkit and how items work
- Spreading awareness of where Alberta's energy comes from and renewable energy options
- Share job opportunities and training opportunities in field of renewable energy and energy efficiency
Apply for the Champion Sponsorship Today!
Would you like to be a champion in your community? Applications for our Champion Sponsorship are open, applications will require your name, contact information and your idea for a community teaching after the conferences completion.