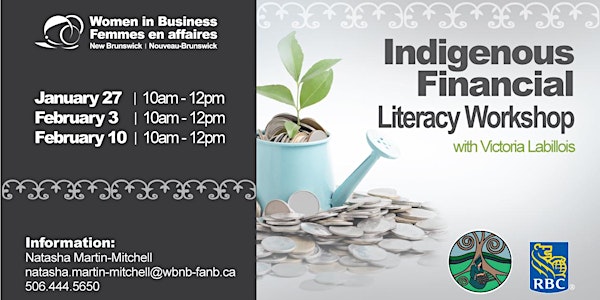 Indigenous Financial Literacy 3-Part Series with Victoria Labillois
Building your financial knowledge and skills
About this event
Indigenous Financial literacy - investing in your future.
This interactive workshop will explore your relationship with money and the impact of history on financial literacy. Going beyond budgeting basics, the materials will explore banking, understanding how credit works and creating consumer awareness.
The material will be covered over three 90-minute online sessions. Registration is limited and attendance at all sessions is strongly recommended to benefit from the wide scope of learning. Please note, sessions will NOT be recorded.
Course outline:
January 27th, 2022 - Your relationship with money.
This unit is more about values than money, as we consider how money impacts our lives.
Key learning: our childhood will affect our behaviours; determining how we make choices; negative thoughts or ideas can affect finances; our behaviours can be changed once we know the "why" we are doing them.
Exploring Indigenous concepts of wealth
Unit will explore pre-contact, impact of colonization and our future; and how our collective history has impacted our financial literacy. We will look at what money stands for, including energy, time, effort and life force.
February 3rd, 2022 - Budgeting Basics
Participants will learn what a budget is and the meaning of income and expenses in financial context. Be able to create and use a budget. Know how to change a budget, and the importance of tracking expenses.Banking
Understanding banks and banking services/products. Helping participants find banking solutions to meet their individual needs and circumstances.
Credit
Understanding credit and in-depth look at how credit works. Overview of types of credit and understanding how credit scores are built.
February 10, 2022 - Consumer Awareness
Exploring what kind of consumer you are and what external factors can influence your spending. This unit also looks at consumer fraud and how to spot it.
Personal budgeting
Participants will apply their new knowledge, skills and behaviours to design their own personal budgets.