Ta7taliya Paisley Nahanee in conversation with Khelsilem Tl'aḵwasiḵ̓an Sxwchálten
About this event
We're celebrating Indigenous Peoples History Month by amplifying Indigenous Inspiration with our inaugural Nahanee Creative Speaker Series - Five 1-hour Interactive Introductions throughout June 2021, online, everywhere!
This hour-long interactive introduction is hosted on the shared territory of the Musqueam, Squamish and Tsleil-Waututh Peoples to:
- Share a decolonial perspective of Indigenous Identity
- Discuss what it can look like to be in good relation with your own identity
- Explore the intersections and nuances of choosing how we identify
Explore the intersections of Indigenous Identities including urban Indigeneity, queerness and more with Khelsilem and Ta7taliya, both with strong community ties both in the Squamish Nation living as urban Indigenous people on the unceded territories of the Musqueam, Squamish and Tsleil-Waututh.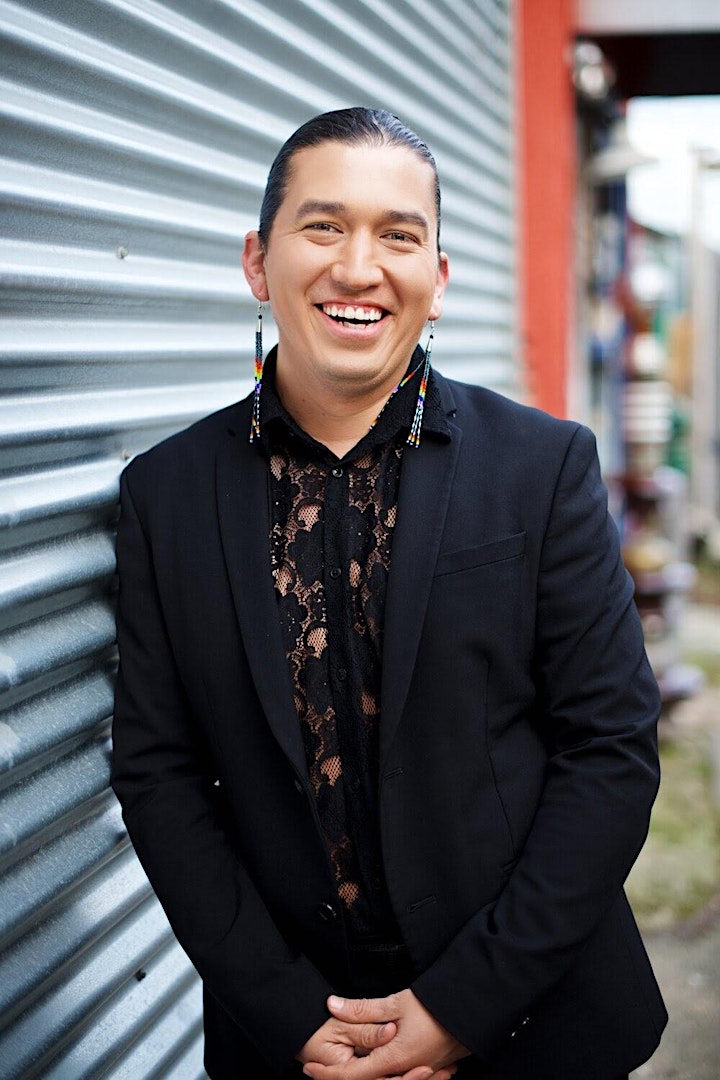 Meet the Speaker:
Khelsilem Tl'aḵwasiḵ̓an Sxwchálten is an advocate, policy-maker, community leader, and thinker. He has served in community governance roles as a prominent leader on the Squamish Nation Council, a member of the BC Climate Council, and serving the past year as the first Indigenous board member with Vancity Board. Khelsilem believes that vision and leadership that empower those who need it should be included in the crisis of our times. Community institution needs a diversity of voices that reflect our communities with ideas that lift and raise us all.
Khelsilem has been recognized for his role as a spokesperson and advocate for the Squamish Nation. In 2018 and 2019, the Vancouver Magazine's Power 50 recognized Khelsilem for "becom(ing) the (Nation) 's undisputed voice in Vancouver—weighing in eloquently on everything from the development of territorial land in the Lower Mainland to final approval of the Trans Mountain pipeline (which he and the Squamish Nation vehemently oppose)." He's a fierce advocate and commentator on climate action, good governance, and progressive land use to support affordable housing and accessible transportation.
Khelsilem lives in Strathcona's Vancouver neighbourhood as a renter with his Nova Scotia Duck Toller named Lindy. He regularly spends his time supporting queer events and art spaces with his love for the Vancouver drag artists, vogue ballroom community, and dance classes.
Meet the Facilitator:
Ta7talíya Paisley Eva Nahanee hails from the Sḵwx̱wú7mesh Nation village of Eslha7an and is based in what is colonially known as "Vancouver".
She currently lends her facilitation skills to Decolonizing Practices, M̓i tel'nexw Leadership Society and The Fireweed Fellowship. She is also part of the duo behind MST Futurism, a project which focuses on uplifting and celebrating Musqueam, Squamish and Tsleil-Waututh visions for the future.
She also works as DJ and believes in decolonizing every aspect of life including the music industry. She's currently throws innovative and inclusive parties on Zoom featuring BIPOC DJs and performers. As well as working on opening a fully equipped DJ studio called Cue Club which will offer low barrier and by-donation access to sound equipment as well as weekly DJ lessons for BIPOC, LGBTQ2S+ and disabled folks.
Her work is based in Sḵwx̱wú7mesh teachings and all about sharing equity with marginalized bodies.
Date and time
Location
Refund policy