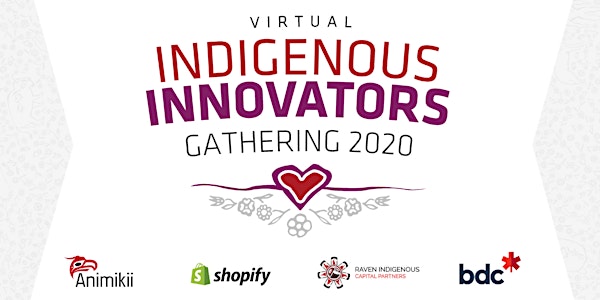 Indigenous Innovators Gathering
Gather your sage, put some coffee on, and start practicing your introductions — the Indigenous Innovators Gathering is December 3, 2020!
About this event
Announcing Indigenous Innovators Gathering 2020!
Our first gathering is focusing on social entrepreneurship. We will be learning about how our guests stay true to their values and incorporate those lessons into their business.
No panels, no speeches: our online gathering will feature conversations and our guests will have a chance to reflect and talk about the lessons learned from each of the sessions.
Speakers
We are incredibly excited and honoured to announce our speakers for the Indigenous Innovators Gathering!
Our first speaker is Teara Fraser, Lead Executive Officer of the first Indigenous woman owned airline, Iskwew Air.
Our second speaker of the event is Tanya Talaga! Tanya is no stranger to storytelling and its transformational power. President and CEO of Makwa Creative, a fully Indigenous-owned production company.
Sponsors
We want to express our love, gratitude, and humility to the sponsors of the Indigenous Innovators Gathering! Every contributor with whom we collaborate brings knowledge, expertise and experience from their field. We recognize that every collaborator knows something that we don't and as a team, we can do our best work!
Thank you, BDC, Raven Indigenous Capital Partners, and Shopify for helping us make this Gathering possible!
Entertainment
Every Gathering needs a little bit of entertainment, right!?
We are very proud to announce our guest entertainment is world-renowned hoop dance artist James Jones, known as Notorious Cree to his 2M TikTok fans!
Notorious Cree is a men's fancy Powwow dancer and top 3 world hoop dancer who also plays the flute and hand drum. Notorious Cree blends traditional, modern and contemporary arts mixed with comedy to showcase a high energy performance.
James Jones has performed and travelled across Europe, China, Australia, North America, and is ranked among the top 5 hoop dancers in the world.
He's danced at Coachella music festival, the Juno's, the Sydney opera house and at the Vancouver Olympic Games and has hoop-danced on a world tour with Juno award-winning group "A Tribe Called Red".
Get Involved
Because we've envisioned this to be a series of consistent ongoing events, lasting partnerships will be key. Animikii Indigenous Technology will be the lead partner. However, we will work with other leading socially-minded organizations to leverage web technologies in order to create social, economic, and cultural initiatives that positively impact Indigenous Peoples.
We will be seeking sponsorships and reaching out to like-minded organizations to partner and further fund this initiative. If you are interested in sponsoring an upcoming Indigenous Innovators Gathering please contact our Business Development Strategist, Tyler McLeod, tyler.mcleod@animikii.com. 
If you're interested in volunteering or otherwise becoming involved in the Indigenous Innovators Gathering, please contact us at info@animikii.com.
Stay Up-to-Date on Announcements
To learn more about the Indigenous Innovators Gathering visit our website.
We will be posting updates on the Animikii Facebook, Twitter, LinkedIn, and Instagram. Finally, make sure you keep us in the loop with all your conference hype by using #IndigenousInnovators2020!
Miigwetch/Thank-you, and we look forward to seeing you in December!