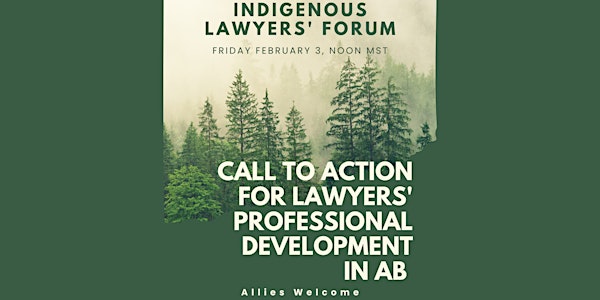 Indigenous Lawyers' Forum Special Meeting
Allies welcome, special meeting on a CALL TO ACTION for the Feb. 6 meeting at the Law Society of Alberta
By Indigenous Lawyers' Forum in Alberta
When and where
Date and time
Fri, Feb 3, 2023 11:00 AM - 12:00 PM PST
About this event
CALL TO ACTION:
Last year, all members of the Law Society of Alberta were required to complete free CPD in keeping with the TRC recommendations. The rule that permitted Benchers to mandate that CPD is being challenged on February 6th of this year. (It is not the general CPD provisions being challenged (67.2 and 64.3). It is only the specifically mandated CPD provisions (67.4).)
The minutes of the 2021 AGM, which I believe was held online because of the COVID lockdown, and only 37 active members showed up to form quorum.
If there are in fact 10K members of the law society of Alberta, we need hundreds to show up and vote this petition down. Call out ALL your allies.
If you are called in Alberta, please show up en masse to vote down this challenge (in embarrassing numbers). Indigenous persons are over-represented in our courts (and in our prisons). And any lawyer who insists on remaining ignorant of Indigenous issues lacks the moral fibre to continue in a profession that forms 1/3 of Canadian governance.
If you are not called in Alberta, you can express your displeasure about this petition directly to the Benchers (listed on the Law Society website). As with all self-governing professions, the law society has a legislated duty to protect the public.
There is no place for hatred and ignorance in our profession.