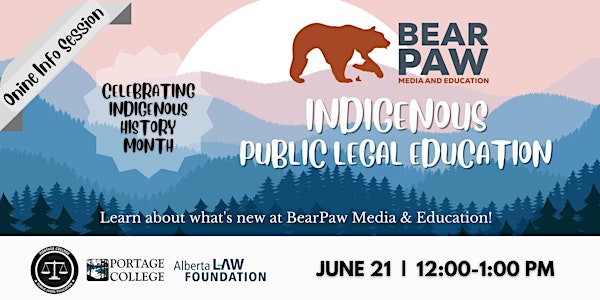 Indigenous Public Legal Education - BearPaw Media and Education
BearPaw produces culturally relevant, public legal education and information created by Indigenous people, for Indigenous people in Alberta.
About this event
BearPaw Media and Education recognizes that many Indigenous people frequently experience racism and discrimination in court systems while feeling alienated by legal jargon and procedures; because of this, BearPaw works to create multimedia that supports and guides Indigenous people through these complex legal systems. They aim to make legal information accessible to those most in need.
Bring your lunch and join us for a chat and learn about what resources are available and what is new and upcoming!
Details on how to join this session on Zoom will be emailed 1 day prior. If you do not receive the invitation, please contact the host at shelley.jackson@portagecollege.ca
Please visit PLEonline.ca or our Eventbrite event listings page for information on other upcoming free public legal education events.