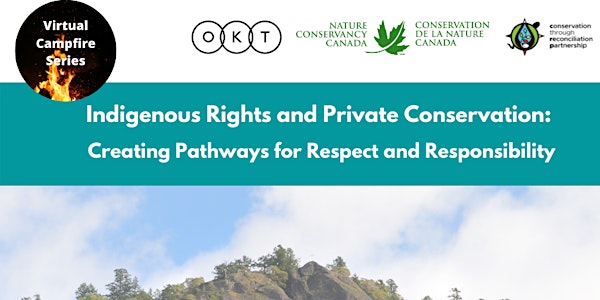 Indigenous Rights & Private Land Conservation: Creating Pathways to Respect
Creating pathways to recognize and respect Indigenous laws, governance and self-determination in conservation.
About this event
WHEN: Tuesday, December 14, 2021 from 10am-12 pm PST/1-3 pm EST/2-4pm AST
WHAT: Join the Conservation through Reconciliation Partnership, the Nature Conservancy of Canada and OKT Law to explore the legacy of private land conservation in Canada and how we can collectively create pathways to recognize and respect Indigenous laws, governance and self-determination.
In Canada, land trusts, not-for-profit conservation organizations and government agencies have sought to 'conserve private lands' for their ecological, agricultural, recreational, or cultural value through acquiring ownership or other legal interests. Often termed 'securement', this process has a long and contentious history.
Despite creating significant public benefits, private land conservation has often occurred without a full appreciation and understanding of the impacts on Indigenous rights and title. Without a significant paradigm shift, private land conservation practices will continue to perpetuate unreconciled relationships among Indigenous Peoples, non-Indigenous peoples and public governments.
We'll explore what this shift could look like from a variety of perspectives and how we could build pathways to collective responsibility for conservation.
There will be ample time for Q & A – bring your questions!
WHO:
Larry Innes (Olthuis Kleer Townshend LLP)
Ian Attridge (Barrister and Solicitor; Associate, Trent University)
John Borrows (Canada Research Chair in Indigenous Law, University of Victoria Law School)
Patricia Saulis (Executive Director, Maliseet Nation Conservation Council)
Kelsey Wierdsma (Consultation Manager, Wolastoqey Nation, New Brunswick)
Megan Pagniello (Coordinator, Sespite'tmnej Kmitkinu Conservancy)
Nathan Cardinal (Senior Advisor, Indigenous Relations, Nature Conservancy of Canada)
This webinar is brought to you by the CRP Domestic Law and Policy Stream and Indigenous Land Trust Sharing Circle, and supported by OKT Law and the Nature Conservancy of Canada.
Read the accompanying report Respect and Responsibility: Integrating Indigenous Rights and Private Conservation in Canada.
Organizer of Indigenous Rights & Private Land Conservation: Creating Pathways to Respect