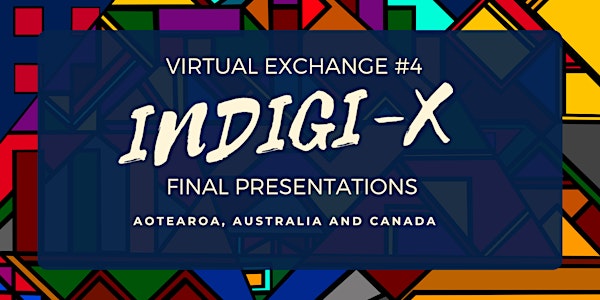 INDIGI-X Virtual Exchange - FINAL PRESENTATIONS
Grab yourself a front-row seat and witness the power of global Indigenous collaboration!
About this event
INDIGI-X is pleased to invite the public to attend the final presentations of the fourth cohort of our virtual exchange program.
This stellar group of 24 Indigenous Professionals from across Aotearoa, Australia and Turtle Island have been working together for six weeks on a series of topics that are important to them and their communities.
By connecting virtually, engaging in ceremony, networking and working together on common themes, this collective of community builders and change-makers has come up with interesting insights in the areas of capturing Indigenous-led education, fostering our youths voice and exploring seven distinct pillars as a method to understanding community.
The agenda for the session is below:
(CA) 2 November 2022 16:00 - 18:30 PDT // 19:00 - 21:30 EDT
(NZ) 3 November 2022 12:00 - 14:30 NZDT
(AU) 3 November 2022 10:00 - 12:30 AET // 07:00-09:30 AWT
Opening Ceremony / Karakia
Session Introduction
Ministerial Statements (Canada, New Zealand and Australia)
Presentations from each Group (10 mins each)
Discussion and Feedback
Closing Thoughts
Closing Ceremony / Karakia
We warmly welcome you to join this celebration of what this amazing group of Māori, Aboriginal, First Nation and Métis leaders were able to accomplish during the exchange.
So... grab a cuppa and front row seat and get ready to experience the power of global Indigenous collaboration.
Want to learn more? INDIGI-X is a global exchange for Indigenous Professionals around the world. To learn more about the other programs we offer, visit www.INDIGI-X.com.