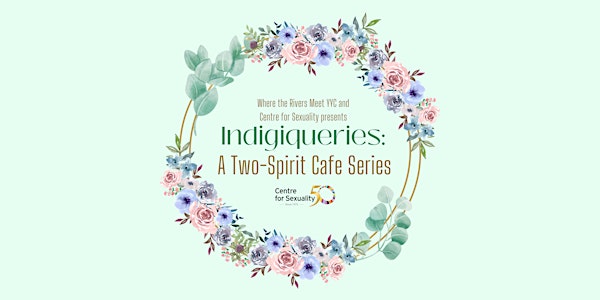 Multiple dates
Indigiqueries: A Two-Spirit Cafe Series
Join us to connect, share, and discuss hot topics related to Two-Spirit and Indigiqueer identities and beyond!
By Where the Rivers Meet YYC
Date and time
Mon, Sep 19, 2022 6:00 PM - Mon, Jun 19, 2023 8:00 PM MDT
Location
Centre for Sexuality (formerly Calgary Sexual Health Centre) 1509 Centre Street South Calgary, AB T2G 2E6 Canada
About this event
Who can participate in Indigiqueries?
Anyone who identifies as Two-Spirit and/or Indigiqueer are welcomed to attend this online café series. Guests who belong to the 2SLGBTQINAP+ community are also welcomed at the discretion of the group.
What is Indigiqueries?
Indigiqueries is an online café series that offers the chance for Two-Spirit and Indigiqueer people to come together to share space on a range of hot topics related to Two-Spirit and Queer Indigneity and beyond! Indigiqueries exists as a sharing circle, a point of connection for those who experience intersectionality.
Where does Indigiqueries take place?
Generally, all meetings will take place online via zoom, but there is possibility that some events may take place in person. Participants are asked to keep an eye on events each month. For all online events, participants will be sent a zoom link to the email they used to sign up with.
When does Indigiqueries occur?
Indigiqueries will occur on the third Monday of each month at 6PM. Please see ticket details for a list of upcoming events.
Please note: these dates are subject to change with notice.
Why is Indigiqueries happening?
Indigiqueries is a chance for Two-Spirit and Indigiqueer people to connect, to build community, to showcase our diversity. While Two-Spirit and Indigiqueer may be referred to as umbrella terms for queer Indigenous people, we know that isn't always the case. Indigiqueries acknowledges the complexities of Two-Spirit and Indigiqueer identities and it is through this online café series that we recognize each participant's unique thoughts and voices.
Not only does this café series offer an opportunity for voices to be heard, Indigiqueries allows for our participants to build on their communication skills, leading to increased awareness and self-esteem.
Participants are reminded of their rights and responsibilities while attending Indigiqueries, which include:
Right to Participant in a healthy learning environment, including healthy discussions and conversations.
Right to Pass on discussing topics that may or may not be considered harmful to themselves or others.
Right to Privacy when it comes to ensuring confidentiality amongst other participants present.
Right to Respect everyone in attendance and what they choose to share.
Right to Fun to ensure we are holding space for laughter, joy, and acceptance as well as our shared experience as a Two-Spirit or Indigiqueer community.
Indigiqueries is our way of creating a standard practice of holding space for others with humility, patience, and good humour. We strive to build community and inspire transformation with each unique café discussion. It is our mission to mitigate harm by creating a safer space in which all participants feel brave to take part in, sometimes, hard conversations by shedding light on complicated topics. We invite people to share their thoughts in a way that is comfortable for them and them only, while respecting each other's boundaries. Discussion topics have included: Coming Out, Urban Displacement, Family Dynamics, Sexual Health, and so much more. We recognize that this may uncover some hard emotions, which is why the Centre for Sexuality offers free short-term counselling. Participants are encouraged to contact our intake team if they wish to utilize these services.
For information on counselling services, please visit: https://www.centreforsexuality.ca/programs-services/counselling/