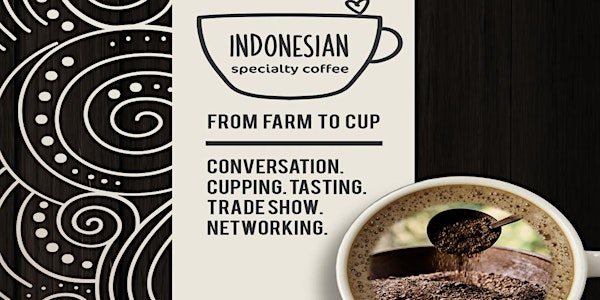 Indonesian Specialty Coffee: From Farm to Cup
When and where
Location
Pinnacle Hotel Harbourfront 1133 West Hastings Street Vancouver, BC V6E 3T3 Canada
Description
We are honoured to be hosting a real East meets West affair. Sumatra and Sulawesi coffee farmers from the Gayo and Toraja Highlands in Indonesia will be visiting Vancouver to help spread knowledge on Indonesian specialty coffee and its journey from farm to cup. We welcome all - especially coffee-lovers, industry professionals (buyers, sellers & roasters), academics, influencers and coffee connoisseurs - to join us for this FREE experience!
This event will include a panel discussion, coffee tastings and a trade show. Guest speakers will include the Indonesian farmers themselves as well as:
Mike Li - Los Beans Coffee Roaster, Vancouver
Hiro Tsujimoto - Republica Coffee Roaster, Vancouver
Normand Roy - Coffee Consultant, Trade Facilitation Office (TFO) Canada
Daroe Handojo - Specialty Coffee Association of Indonesia
Said F. Baabud - Canada-Indonesia TPSA Project
GUEST INTERVIEWER: Matt Johnson - Prototype Coffee
It is sure to be a unique experience where you will be able to learn exactly where your coffee comes from, how it's produced and meet the wonderful people responsible for it! Join us in extending the farmers a warm welcome to the Canadian coffee market.
ORGANIZED BY
The Indonesian Trade Promotion Centre in Vancouver
Consulate General of the Republic of Indonesia
Nusa Coffee

FARMERS:
Arinagata Cooperative is a Gayo Arabica Coffee producer and exporter specializing in organic coffee. The cooperative has 2,168 select coffee farmers on 2,436 hectares of coffee plantations covering 39 villages in Aceh Tengah district of Aceh Province, Indonesia.
Kokowagayo (short for Koperasi Kopi Wanita Gayo) is a women-owned and -managed Gayo Arabica Coffee cooperative. Founded in 2014, it works with 567 farmers from 7 villages located in the Bener Meriah district in Aceh Province, Indonesia.
Pt. Meukat Komuditi Gayo was founded in 2013 in Aceh Tengah district. Its primary activities are in high-quality, fully washed coffee processing, local trading and exporting.
Redelong Organic Cooperative (REO), located on the island of Sumatra, was created in 2014 in the community of Kenawat Redelong. The REO Cooperative has 703 members from four villages in the Bener Meriah District of the Gayo Highlands, with a total production area of 560 hectares.
Orang Utan Coffee Lestari (the Orang Utan Coffee Project) works with 300 Gayo Arabica coffee farmers to manage their plantations in an ecological and sustainable way to protect the rainforest. This is the natural habitat of critically endangered Sumatran orangutan, and coffee sales support the Sumatran Orangutan Conservation Program.
About the TPSA Project
TPSA is a five-year C$12-million project funded by the Government of Canada through Global Affairs Canada. The project is executed by The Conference Board of Canada and the primary implementation partner is the Directorate General for National Export Development, Ministry of Trade of Indonesia.
Trade Facilitation Office (TFO) Canada is providing support to Indonesian SMEs to export to Canada and globally.