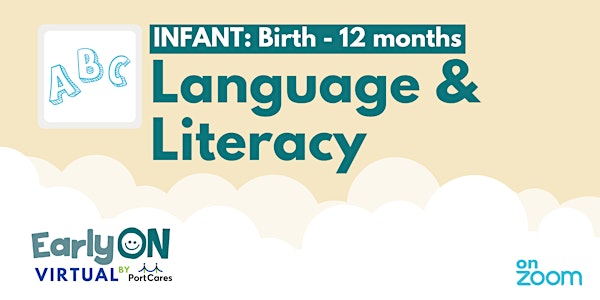 Infant Language & Literacy - Babies & Books
Join our EarlyON team for activities that promote early literacy and language skills for baby!
About this event
About This Session:
EarlyON staff will introduce parents to activities that they can do at home to enhance their infant's language. Discussion will focus on the book Ten Little Fingers and Ten Little Toes by Mem Fox. Activities that parents can engage in with their infants focusing on fingers and toes will be introduced. This session supports the development of early literacy skills and help children sharpen their memory through imitation and repetition
About Infant Language & Literacy
Join our EarlyON team as we explore books and activities that foster communication, introduce concepts such as numbers, letters, colours, and shapes in a fun way and build vocabulary skills that gives babies information about the world around them.
Register and you'll be emailed a link for this free zoom session.
Brought to you by Port Cares.
Have a question about this session? Give us a call at 905-834-3629 ext 258 Mon-Fri 8:30-4:30.
Visit our Facebook Page and Instagram for more fun and activities! @earlyonvirtual
_____________________________
Note: You will need a zoom account to attend this session. Download zoom to your computer or mobile device https://zoom.us/signup
New to zoom? Learn how to use it here.