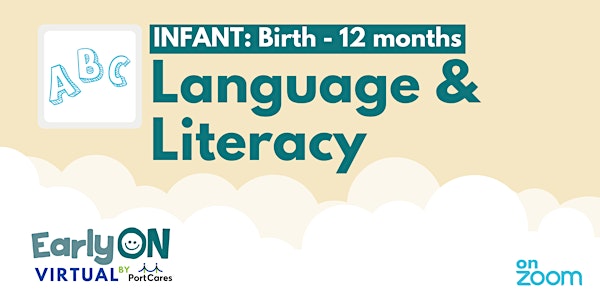 Infant Language & Literacy - You Are My Happy
Join our EarlyON team for activities that promote early literacy and language skills for baby!
About this event
About This Session: You Are My Happy !
Engage in a mindful storytelling experience with your child(ren) as the EarlyON staff create an immersive reading experience for the story, "You Are My Happy." This activity will focus on guiding pre-literacy skill development and practicing early forms of communication. In addition, caregivers will learn about how to talk with your child to promote holistic brain development.
Materials needed:
Optional: "You Are My Happy" book by Hoda Kotb
About Infant Language & Literacy
Join our EarlyON team as we explore books and activities that foster communication, introduce concepts such as numbers, letters, colours, and shapes in a fun way and build vocabulary skills that gives babies information about the world around them.
Register and you'll be emailed a link for this free zoom session.
Brought to you by Port Cares.
Have a question about this session? Give us a call at 905-834-3629 ext 258 Mon-Fri 8:30-4:30.
Visit our Facebook Page and Instagram for more fun and activities! @earlyonvirtual
_____________________________
Note: You will need a zoom account to attend this session. Download zoom to your computer or mobile device https://zoom.us/signup
New to zoom? Learn how to use it here.