Info Session: Animating Our Waterfront Program Guidelines
Description
This information session is provided to help individuals, organizations, collectives or groups prepare an application for the Animating Our Waterfront funding program.
Waterfront Toronto's Animating Our Waterfront is a program that provides funding and production support to individuals, organizations, collectives and groups that produce free arts and cultural programming in selected waterfront parks and public spaces. The program's goal is to provide one-time funding for projects that help to animate our waterfront communities. We recognize that creating space for arts and culture is an essential component of our work to revitalize Toronto's waterfront and reconnect residents and visitors with Lake Ontario.
The objective of this program is to facilitate the production and presentation of three types of programming: Community Arts & Culture Workshops, Site-Specific Projects, and One-Day Festivals.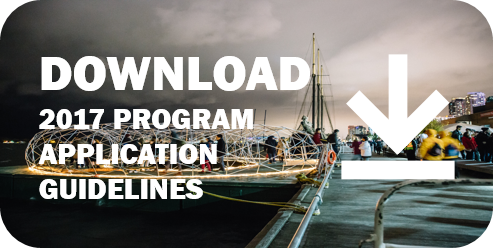 DOWNLOAD PROGRAM GUIDELINES [PDF] – 1.2MB
Animating Our Waterfront is an initiative which is wholly operated by Waterfront Toronto.
Cover: Ecstatic Dance by Irene Cortes, Mary-Dora Bloch Hansen and Zach Olesinki, as part of The Gata: Water Ceremony at Sherbourne Common.
Photo: Connie Tsang