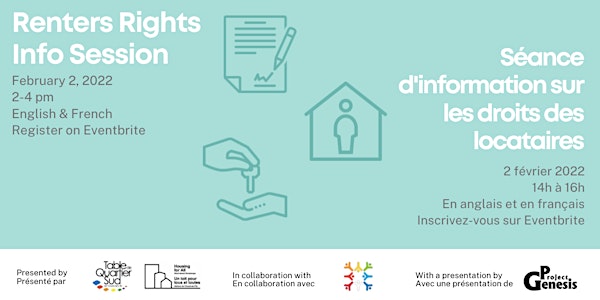 Info Session: Renters Rights/Droits des locataires
The TQSOI and Project Genesis present a free bilingual virtual info session on renters rights and responsibilities for West Island tenants!
About this event
The TQSOI, in collaboration with Project Genesis, presents a free, bilingual virtual info session on renters rights and responsibilities in Québec, intended for renters in the West Island of Montreal (i.e. Dorval, Pointe-Claire, etc).
Attendees can expect information on the following topics:
How leases work
Your rights and responsibilities
Your landlords rights and responsibilities
How to officially communicate with your landlord
Rules governing rent increases
Please note that this event is for information purposes. While there will be a brief Q&A, this event is not intended to provide tailored legal advice to specific housing situations.
Register via Eventbrite to access the Zoom link.
Questions and particular needs can be directed to communications@tqsoi.org.
...............................
La TQSOI, en collaboration avec Projet Genèse, vous présente une session d'information virtuelle gratuite et bilingue sur les droits et responsabilités des locataires au Québec. Cet événement est destiné aux locataires de l'Ouest-de-l'Île de Montréal (Dorval, Pointe-Claire, etc.).
Les personnes qui participent à l'événement auront l'occasion de se familiariser avec le sujets suivants :
Le fonctionnement du bail
Vos droits et responsabilités
Les droits et responsabilités de votre propriétaire
Les bonnes pratiques de communication avec votre propriétaire
Les règles qui entourent l'augmentation du loyer
Veuillez noter que cet événement est uniquement à titre d'information. Il y aura une période de questions et de réponses, mais nous ne fournirons pas d'information légale sur des cas spécifiques.
Inscrivez-vous sur Eventbrite afin d'avoir accès au lien Zoom.
Toute question ou besoin particulier peut être dirigé à communications@tqsoi.org.