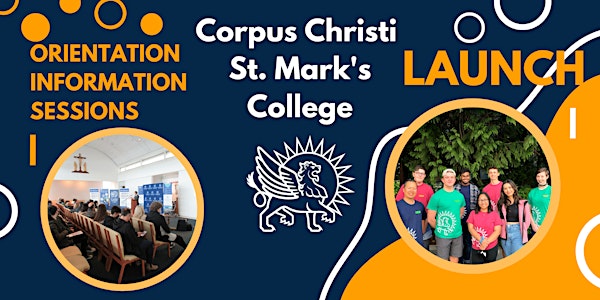 Info Sessions and LAUNCH Day for new CCC students (Fall 2022)
Information Sessions and LAUNCH Day for NEW CCC Students
When and where
Location
Corpus Christi-St. Mark's at UBC 5935 Iona Drive Vancouver, BC V6T 1J7 Canada
About this event
As you begin your time at Corpus Christi College, we're here to get you ready for the upcoming academic year! Join us for the information sessions and our annual LAUNCH Day as part of your orientation to the college. Our info sessions will cover the following:
course planning and Q & A with the Academic Advisor
the benefits of your UBC affiliate card and UPass and how to obtain one
what is CWL (Campus Wide Login), Canvas and how to access it
what is the AMS health and dental plan and how to access services (or how to opt-out)
learn about academic support and resources with the Student Resource Centre
find out about exciting student events and volunteer opportunities with Student Life
learn about the services that are available through UBC such as student clubs, intramurals, library services and so much more
additional info for International Students
You will also receive your Corpus Christi student ID card, get a tour of the college buildings, and visit some of the important spots on the UBC campus. This is also a great chance to meet your classmates and make new friends before the start of classes!
Each info session is 3 hours in length and will be limited to 20 people. The morning session is from 9:30am-12:30pm and the afternoon session is from 1:30pm-4:30pm. Register as soon as possible to choose the date/time that works best for you.
On Tuesday, September 6, our LAUNCH Day will include a welcome address from our President, various staff, and faculty as well as an opportunity to meet many new and returning students. The day will consist of games, prizes, a free BBQ lunch, and some Corpus swag! The event begins at 10:00am and ends at 2pm. After 2pm, students can check out the clubs booths at UBC's Imagine Day. Further details will be announced at the info sessions.
The cost for these events are included as part of your student activity fees. Register here for both events. If you are unable to attend the info sessions and can only attend LAUNCH, click here to register.
We look forward to meeting you!
Your Student Development Team