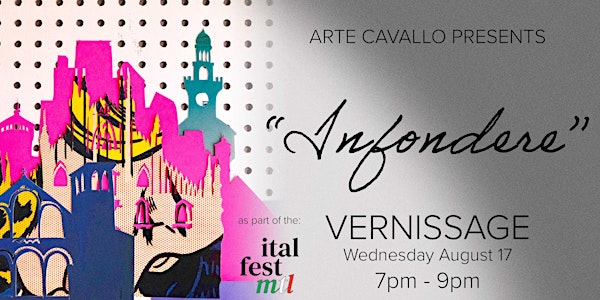 INFONDERE VERNISSAGE by ARTE CAVALLO Studio
Immerse yourself into the artistic mosaic that is ARTE CAVALLO | Plongez dans la mosaïque artistique qu'est ARTE CAVALLO
When and where
Location
ARTE CAVALLO STUDIO 9150 Rue Meilleur Suite 306 Montréal, QC H2N 2A5 Canada
About this event
Inspired from a space where art is infused and becomes a way of Life, the INFONDERE Vernissage welcomes you all in appreciation of our Fine Art Collections from near and far.
FEATURED ARTISTS:
BEX, CANADA (Ontario)
Bad Like Yazz, CANADA
David Tyers, UK (British Colombia)
Emma Trinci , CANADA
Federico Piccariello, Italy
Frank Caracciolo, USA (Quebec)
Jessica Di Palma, CANADA
Joey Franco, CANADA
Gianni Giulianno, CANADA
Margaret Lipsey, USA (Quebec)
Marco Gallotta, ITALY (New York)
Mark Dickens, UK
Max Ruebensal , GERMANY
Moriello, CANADA
Paco, CANADA
Sandy Cavallo , CANADA
Stella Pace, CANADA
Virginie Bernal, FRANCE (Quebec)
Join us on Wednesday, August 17 from 7-9pm at ARTE CAVALLO Studio in part with the ItalFest Mtl.
KINDLY RSVP on evenbrite or at info@artecavallo.com
ARTE CAVALLO
OUR MISSION
Through a strong commitment to artists and art collectors alike, Arte Cavallo seeks to make art accessible to everyone. We strive to grow our community of art lovers through a common appreciation for creativity and real, one-on-one interactions.
OUR MOTTO
Based in Montreal, Arte Cavallo provides artists and art collectors the opportunity to share, discover and purchase original art by artists specializing in a variety of mediums: painting, sculpture, photography, abstract, digital, fine art, graffiti/street art and pop art. 
CONNECT. CREATE. INSPIRE. was born from a love of connecting with others, of learning about their journeys, passions or experiences. At Arte Cavallo, we believe that every artistic journey begins with a story, and it is through this story that we can connect to artwork and artists alike.