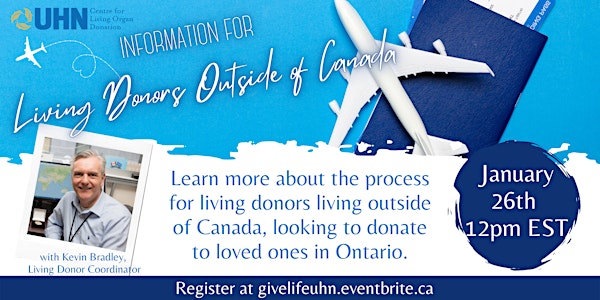 Information for Living Donors Outside of Canada
Find out about the process for donors outside of Canada who are donating to their loved ones in Ontario.
About this event
For many potential transplant recipients, it can be difficult to find a living donor, especially if most of their family or friends live overseas, or outside of Canada. If you live outside of Canada, it is possible for you to donate a liver or kidney to a family member or friend who lives in Ontario.
This webinar will provide information about the process and supports available for potential living donors outside of Canada who are looking to donate to loved ones in Ontario.
N.B. Canada's organ donation system is based on altruism. It is illegal to provide or receive payment or inducements for organ donation. Canadian transplant centres endorse the Declaration of Istanbul on Organ Trafficking and Transplant Tourism
SPEAKERS:
Kevin Bradley is a living donor co-ordinator in the Kidney Transplant Program at Unity Health, St. Michael's Hospital. A registered nurse by training, his job is to co-ordinate the potential kidney donor and liaise closely with the recipient team for a great transplant outcome. He also co-ordinates out-of-country donors.