Information Management as-a-Service:Building a flexible platform for long t...
Description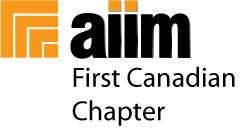 AIIM First Canadian Chapter is excited to welcome Chris Wynder, Director of Client Services for Thinkdox and veteran information management strategist, to talk about the benefits of managing information as a service or IMaaS rather than as a fixed resource.
The goal of this talk is to provide a practical set of guidelines for information professionals and IT managers to move from the current information management practices to a new service based paradigm that will allow organizations to deal with the changing reality of information management.
Put simply, organizations can no longer view information as a fixed resource to be managed based on the file type or data location. Organizations that are successful at managing their information focus their efforts how information is used rather than where it is stored. Information in today's organizations is dynamic, complex and often stored across several physical locations. The road from today's practices to IMaaS requires process engineering, information governance and IT planning. Using a mix of techniques from marketing and supply chain management this talk will provide a primer on how to ensure that information is accessible to the right people at the right time.
Chris' presentation will be followed by a short presentation by ThinkDox, our session sponsor.
Our speaker: Dr. Christopher Wydner, Ph.D., ThinkDox
Dr. Christopher Wynder provides information management strategy and implementation management services to his customers. Formerly from Info-Tech Research Group were he was a Senior Consulting Analyst, Chris was responsible for providing clients with actionable advice on their information management problems. These problems involved issues of governance, technology selection and regulatory obligations. Chris was the primary author of Info-Tech's ECM and Archive Vendor Landscapes providing him with a deep understanding of the competitive environment in the information management space. Chris has experience in leading small groups through workshops as well as presentations to audiences in the thousands. He believes in continual education of his clients using webinars, blogs and podcasts to provide multiple avenues for engagement and learning.
Program Information:
Registration and networking: 8:30 – 9:00 a.m.
Seminar: 9:00 - 10:30 a.m.
Networking: 10:30 - 10:45 a.m.
Dress Code: Our venue requires business casual dress. No jeans, runners, shorts or logo golf shirts are allowed.
Not yet an AIIM member? Sign up to become a member and please don't forget to reference "FIRSTCANADIAN" during sign up.
Be sure to follow us and keep in touch!