Sales Have Ended
Registrations are closed
Contact us at hello@startupymm.ca
Sales Have Ended
Registrations are closed
Contact us at hello@startupymm.ca
Are you ready to take your startup idea or business to the next level? Attend the information session for the LEAP program.
About this event
In this Information Session, you will learn what are the course requirements? Is this course a fit for you? Can you commit to the next 10 sessions?
Lean Entrepreneur Acceleration Program (LEAP) is a 10 part acceleration program that is inspired by Launch, one of Canada's most successful tech incubators. Since its launch in 2012, Launch has been putting up results that speak volumes!
- 3500+ Entrepreneurs trained
- 300+ graduates have grown from Seed to Series A
- $300M+ raised
In our short history, LEAP has had a very similar impact on entrepreneurs in our region. We've hosted three cohorts since we started, and we can see the connections building.
Starting on January 11, 2022, each of the 10 lessons in LEAP will be taught by someone who has been a part of the Alberta and Canadian innovation community, sharing their own personal experiences and stories to help illustrate the curriculum in a way that will give our entrepreneurs greater benefits.
Each session runs from 7:00 PM-8:30 PM.
Our sessions include:
1. Build Your Strategy
2. Know Your Customer
3. Solve Big Problems
4. Craft Your Unique Value Proposition
5. Pitch Investors
6. Raise Capital
7. Measure Metrics
8. Build Your MVP
9. Get Traction
10. Pitch Your Startup.
All companies get to practice pitching their company to a group of local professionals. These instructors will take entrepreneurs through the key building blocks needed for launching, funding and growing a successful start-up.
Learn more by attending the information session.
https://www.startupymm.ca/leap
Join Zoom Meeting on November 17, 2021, at 3:00 pm (MT)
Personal information is collected under the authority of Section 33(c) of the Freedom of Information and Protection of Privacy Act (Alberta). Your personal information will only be used to register you for the event and contact you regarding any updates about the event. Should you have any questions about the collection of this information, please contact Executive Liaison to the CEO and Board of Directors, 9909 – Franklin Avenue, Fort McMurray, Alberta T9H 2K4, or call 780-788-1581
Please be aware Eventbrite is a third-party system hosted in the U.S.A. and may be subject to U.S. laws. For information on Eventbrite's privacy policy please visit
https://www.eventbrite.ca/support/articles/en_US/Troubleshooting/eventbrite-privacy-policy?lg=en_CA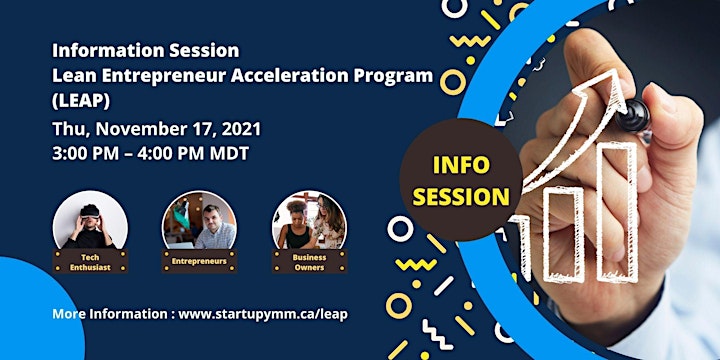 Organizer of Information Session: Lean Entrepreneurship Acceleration Program (LEAP)
StartupYMM is focused on building a culture of invention and entrepreneurship in Fort McMurray. We help entrepreneurs navigate challenges at each stage of their ventures through educational programs, building community, and creating spaces where entrepreneurs can work on their idea and be inspired by each other.