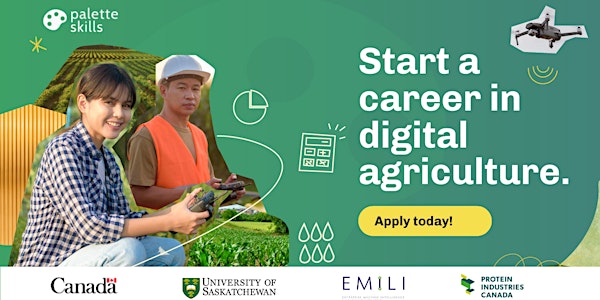 Information session- The Promising Future of a Career in Ag-tech in SK
If you're looking up your game in agriculture, this program is for you!
About this event
The agricultural food and technology sector is growing, so it's a great time to transition into a career in automation agriculture.
That's why we've developed our innovative upskilling program, the Automation & Digital Agriculture Specialist Program. This program is designed for motivated workers who want to join the agricultural food and technology sector.
This project-based learning program will get you up to speed on emerging technologies like GIS, IoT, drones, artificial intelligence (AI), robotics and big data—the skills that are hot right now in agriculture automation.
In this 45 minute workshop, we will answer the most common questions we get:
What is Automation & Digital Agriculture Specialist Program?
Who are the best candidates / would I be able to be successful?
What career opportunities are available?
How taking the course will help land you your dream job in Ag-tech?
What type of salary and benefits can I expect?
How to apply to the program?
We will answer all this and more.
We are committed to a job rate of 90%!
Please note: Our programs are designed for residents of Saskatchewan who are able to work legally in Canada.
Want to learn more the positive impact of our programs? Follow us on LinkedIn to learn more!