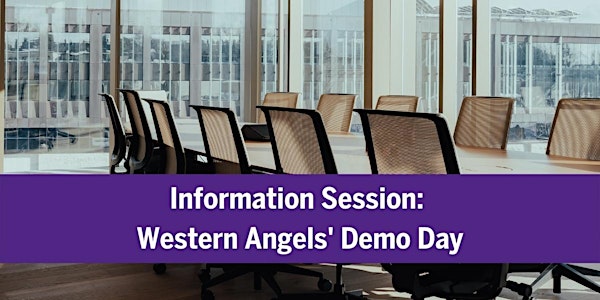 Information Session: Western Angels' Demo Day
This investor event is a celebration of entrepreneurship that aims to bring together budding Western startups and our community of investors
About this event
About Our Information Session:
Our virtual information session is open to anyone interested in learning more about Western Angels' Demo Day.
Learn more about the application process and requirements, and get tips on how to complete your application. Founders are strongly encouraged to attend this information session to increase their likelihood of a successful application.
About Western Angels' Demo Day:
Are you a Western founder looking for investors or partners to take your business to the next stage? Then apply to take part in our next Western Angels' Demo Day!
This investor event is a celebration of entrepreneurship that aims to bring together budding start-ups, experienced entrepreneurs, and our community of investors. Since the launch of our investor event, we have helped several Western entrepreneurs secure a combined total of over $6.7 million + in private investment. Don't miss out on your opportunity to practice your pitch, win some funding, and get connected to our investment community.
Angel Investment Opportunity:
During Western Angels' Demo Day, Western founders can curate their investment asks based on their needs. This event aims to help founders looking for their 'Pre-Seed' or 'Series A' investment round. Asks in the past have ranged from $50,000 - $ 3 Million. Founders can also pitch 'in-kind' asks, such as industry connections or mentorship.
For more information, please visit: https://entrepreneurship.uwo.ca/for-alumni/western-angels-demo-day/