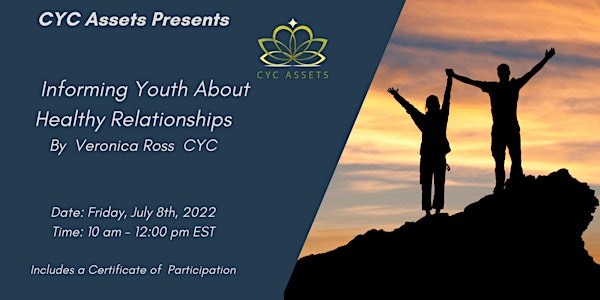 Informing Youth About Healthy Relationships by Veronica Ross CYC
By focusing on modelling healthy behaviour, and utilizing daily life events, we engage youth in the understanding of healthy relationships
About this event
Learning Outcomes:
As a CYC your participation in this webinar will assist you to:
a. Recognize the influence of the youth's relationship history and help the young person develop productive ways of relating to both family and peers
b. Help the young person to recognise the various qualities of healthy relationships.
c. Enable the young person to build relationships through contact, communication, appreciation, shared interests, attentiveness, mutual respect, and empathy
d. CYC's will learn to model appropriate interpersonal interactions for the youth while handling the activities and situation of their life-space
e. CYCs will learn how to establish and maintain effective relationships within a team environment by; promoting and maintaining professional conduct; negotiating and resolving conflict; acknowledging individual differences; and, supporting team members
Presenter Bio:
Veronica is a Lambton College, Child and Youth Care graduate. She works full time as the residential CYC in her community's local domestic violence shelter and is currently enrolled at Queen's University, on track to get her Psychology degree. When asked about what her philosophy is in her work, she responds, "While youth are in my life space, my goal is to facilitate the opportunity for kids to just be kids."
Level: Novice
Domain of Practice: Relationships and Communication