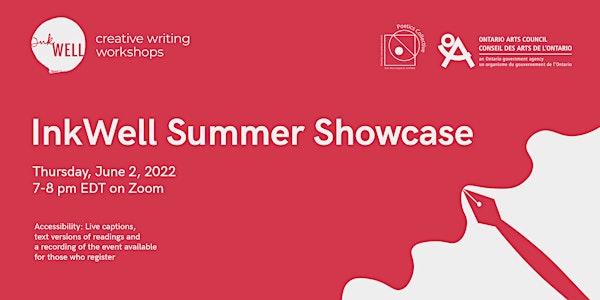 InkWell's Summer Showcase
Featuring 5 writers from InkWell's drop-in creative writing program and partner workshops for folks living with mental health issues!
About this event
The Ontario D/deaf/HoH, Disabled, Mad and Neuroatypical Poetics Festival is teaming up with InkWell Workshops to spotlight some of the amazing talent coming out of this grassroots community program.
InkWell Workshops offers creative writing workshops to folks living with mental health or addiction issues, led by professional writers with lived experience of mental illness, and we are excited to share some of the incredible work being created through our sessions.
Our 5 readers, selected by a team of current/former InkWell Workshops instructors with lived experience of mental illness, are Shan Powell, Amy Hsieh, Alexandra Yeboah, Eric Goodchild and Van Waffle. Reserve your free tickets today and join us for a wonderful celebration of disability arts!
"InkWell is some of the most important work being done in CanLit."
--Roxanna Bennett, author of The Untranslatable I
"Over the years, I've attended InkWell's readings and have been blown away by the vibrancy and strength of the stories."
--Ayelet Tsabari, author of The Art of Leaving and The Best Place on Earth
"InkWell Workshops is a fabulous initiative."
--Lawrence Hill, author of The Book of Negroes and Beatrice and Croc Harry
This one-hour event will feature live captions, text versions of readings and a recording for registered participants to view on their own time. If there is anything else we can do to support your attendance, please email info@inkwellworkshops.com.